With many Americans in the throes of pandemic-induced financial hardship, horses are more vulnerable than ever to neglect or abandonment. The faltering economy has negatively impacted numerous horse owners, even the most diligent ones; in many cases, the struggle to make ends meet has caused a shortage of adequate care for horses.
Consistent with its 26-year history of championing horse health and well-being, The Foundation for the Horse has worked tirelessly throughout 2020 to address the new threats to equine welfare brought on by the COVID-19 pandemic. Programs implemented this year by The Foundation include provision of feed assistance to horse owners in need and distribution of veterinary care funds through Vet Direct Safety Net. The latter, managed in partnership with the American Association of Equine Practitioners (AAEP) and the American Society for the Prevention of Cruelty to Animals (ASCPA), is an innovative compassionate care program which empowers veterinarians to provide free services to horses at risk in their community.
Sugar, an 8-year-old bay mare, is one of the lucky beneficiaries of The Foundation for the Horse's Vet Direct Safety Net initiative. When Sugar was rescued by Angel Matthews of Angel's Equine Guidance & Rescue Group, the poor mare was so lame and in so much pain she almost had to be lifted up into the trailer. Unsure if she could raise the funds to care for the horse before Sugar's condition worsened, Matthews reached out to her regular veterinarian, Dr. Charlene Noll of Crossroads Equine Hospital in Anderson, Calif. Thanks to the financial help of Vet Direct Safety Net, Dr. Noll was able to stabilize and treat Sugar's sore feet at no cost to the rescue organization.
Today, Sugar has come a long way in her recovery—her feet are trimmed regularly, and she is a much happier horse. Her rescuer shudders to think how the situation might have transpired without the immediate veterinary care enabled by the Foundation for the Horse's Vet Direct Safety Net program. "Without the assistance, we probably would've had to euthanize her," said Matthews. "Vet Direct literally saved her life."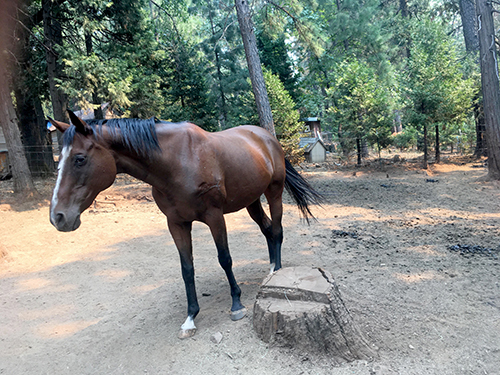 Today, Sugar has come a long way in her recovery and is a much happier horse. Her rescuer shudders to think how the situation might have transpired without the immediate veterinary care enabled by the Foundation for the Horse's Vet Direct Safety Net program. "Without the assistance, we probably would've had to euthanize her," said Matthews. "Vet Direct literally saved this horse's life."