Walter W. Zent, DVM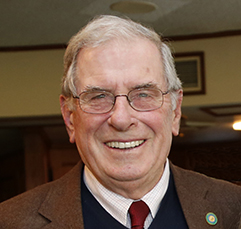 Dr. Zent graduated from Cornell University, School of Veterinary Medicine, in 1963. Following an internship at Purdue University, he spent two years investigating infectious disease outbreaks and pathology with Drs. Bryans, Doll and Rooney at the University of Kentucky, Department of Veterinary Science. Since 1966, he has been an equine practitioner at the Hagyard Equine Medical Institute in Lexington, Ky.
Dr. Zent served as President of the Society for Theriogenology in 2005-2006 and is an active member and past officer or committee member of many professional veterinary and equine organizations, including the AAEP. He has delivered numerous presentations at national and international conferences, authored several book chapters and continues to contribute articles for publication. Dr. Zent serves on the committee for the Hagyard Bluegrass Equine Symposium as well as the committee for the International Symposium on Equine Reproduction. He is an honorary Diplomate of the American College of Theriogenologists.
He and his wife own and breed Thoroughbreds and reside on their farm in Lexington.
Mentee Comments
"One of the greatest attributes about the practice at Hagyard, Davidson and McGee when I graduated from veterinary school was the opportunity to gain valuable experiential mentoring from some of the greatest equine practitioners in the world. One of those early mentors from whom I was fortunate to have benefited was Dr. Walter Zent. Having spent a season palpating mares each morning with him in my first breeding season has shaped my career to this very day. Not only did I gain an incredible knowledge base in broodmare practice, but I learned an entire approach to daily veterinary practice to the benefit of both the patient and the client. Along with that experience, I learned the value of collaborative thinking in assisting other colleagues that I witnessed from Dr. Zent on many occasions—a personal attribute of this early mentor of mine that I have reflected on throughout my career in giving back to others."
—Stuart E. Brown, II, DVM, Hagyard Equine Medical Institute, Lexington, Ky.
"Dr. Zent has a joy of equine practice to which we should all aspire. His inquisitive nature is undiminished after a storied career, and he remains a fountain of knowledge and experience which he generously shares to all he meets. Walter is a true friend to many, and importantly, to the horse."
—Peter Morresey, BVSc, MACVSc, DACVIM, DACT, Rood & Riddle Equine Hospital, Lexington, Ky.