Thomas D. Brokken, DVM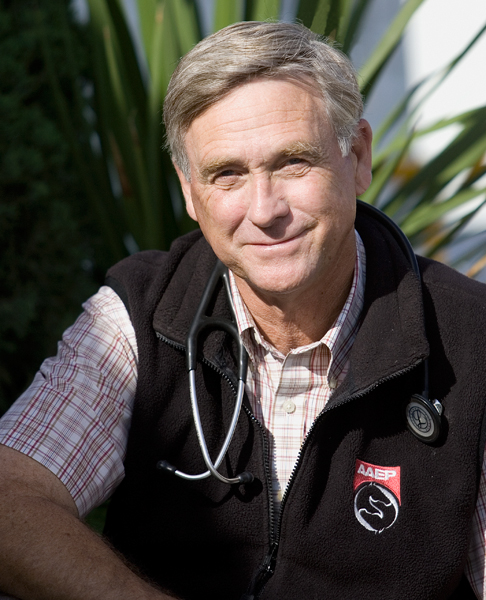 Dr. Tom Brokken was raised on a farm in Harmony, Minn., a community in the southeastern part of the state. He attended Augustana College in South Dakota before receiving his veterinary degree from the University of Minnesota in 1969.
Following graduation, Dr. Brokken completed an internship in equine medicine and surgery at the University of Saskatchewan College of Veterinary Medicine. In May 1970, Dr. Brokken joined the practice of Dr. M.B Teigland in Miami, Fla., becoming a full partner in 1974 and president of the practice from 1990 to 2004.
In 2005, Dr. Brokken became the President of the American Association of Equine Practitioners (AAEP), the third veterinarian from the practice to be elected to the most prominent office of the only national organization dedicated to the equine veterinary professional.
Before presiding over the AAEP, Dr. Brokken served on many of its committees and panels, and he presented several papers that have been published in the AAEP Proceedings, and The Cornell Veterinarian.
Dr. Brokken serves as an advisor on the Grayson Jockey Club Research Foundation Advisory Committee, as well as the University of Florida College of Veterinary Medicine College Advisory Committee. He also is a member of the Florida Association of Equine Practitioners, the American Veterinary Medical Association, the Florida Veterinary Medical Association, and the South Florida Veterinary Medical Association.
Dr. Brokken's special area of interest is the diagnosis and treatment of lameness in racetrack Thoroughbreds. He and his wife, Sally, have two grown sons, Todd and Matt, who are both equine veterinarians.
Mentee Comments
There may be equals, but in my view, there are no superior ambassadors for equine veterinary medicine than Dr. Tom Brokken. I am immensely grateful that I asked for and accepted an invitation to visit Teigland, Franklin and Brokken in the summer of 1988. At the time, I was contemplating working the soon-to-be-open Remington Park racetrack and was seeking advice on how to succeed in practice. I didn't realize I would gain a life mentor for the ages. I rode with Dr. Brokken to Calder Racetrack and watched as one shed row after another was illuminated by Tom's bigger-than-life passion for helping people and their horses. Every team member, from the groom raking the shed row to the Hall of Fame trainer, knew that Doc appreciated their contribution and valued their input. Together, they were organized and efficient with no wasted motion and no observation ignored. He advised to be the horse's advocate and consider their welfare first. Be thorough, diligent and require a fair fee for your effort and the business will take care of itself. It's as simple as that. In a brief period, I had observed a template to thrive if I had the discipline to execute it. The show had just begun.
Long before it was a "thing," work-life balance was no mystery to Dr. Brokken. While he was passionate about work and enjoyed what he did, there was no mistaking why he did it. In between stops before the client call backs and office duties, there was always a call home to the family. A phone call just to check on their day, express his affection and genuine concern for their happiness was time well spent. His appreciation for the contribution of all others in his practice was obvious and did not go unacknowledged. By being efficient, setting priorities, and not wasting time on unnecessary endeavors, he felt you made your personal time, and he used it well.
Dr. Brokken's extensive service to AAEP has continued in his retirement and originated from a love of the profession and a sense of duty to give back to the industry it serves. His encouragement and example have inspired many to follow… demonstrating true mentorship.
– Brian S. Carroll, DVM, Oklahoma City Equine Clinic P.C., Oklahoma City, OK
Tom Brokken hired me to work in my first, and only, job in equine practice. He has been a constant mentor even to this day. Tom always enjoyed what he was doing in practice, and it is contagious for all of us to see and experience daily. Tom is one of a kind, has a wealth of real-life experiences and is everyone's friend. It was an absolute gift to be able to work with him for as long as I did. Tom's involvement with the AAEP continues in retirement, and I would have a hard time finding anyone that cares more for what AAEP is doing.
– Scott A. Hay, DVM, Teigland, Franklin and Brokken, Fort Lauderdale, FL