Ted Lock, DVM, MS, DACT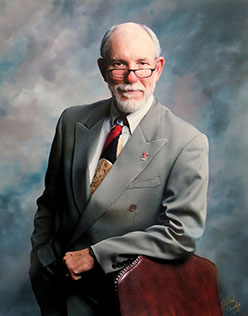 Dr. Ted Lock was raised on a beef cattle farm in Carroll County, Missouri. He first got the notion to enter academia when, two weeks before graduation from the veterinary college at the University of Missouri, the head of the clinical department there called to offer him a job.
Though Dr. Lock had already committed to a job in a busy Union, Mo., mixed practice, the idea lingered. A year later, in 1972, he interviewed at the veterinary colleges in both Illinois and Georgia. Family considerations tipped the scale to staying in a Midwest locale.
At Illinois he joined the ambulatory service and began coursework to complete a master's degree while teaching and providing clinical service. He finished his master's degree in 1976 and gained board certification in the American College of Theriogenologists the following year.
Dr. Lock's teaching philosophy was: Get the students out on the farm and provide hands-on experience. Through this notion he conveyed his enthusiasm for his work, which in turn stimulated the enthusiasm of students.
In 1975, legislation was enacted that gave incentive to standardbred and thoroughbred breeders and the number of horses bred in Illinois grew at a phenomenal rate. This development fit with his theriogenology interests and led to his reputation as an equine reproduction specialist.
Dr. Lock maintained relationships with breeding farms throughout the state and was integral to the breeding program run by the University of Illinois Animal Sciences Department.
Dr. Lock played a guiding role on the university's Institutional Animal Care and Use Committee for more than 15 years, including one year as the interim attending veterinarian for agricultural animals on campus.
Nevertheless, teaching proved the hallmark of his career. The many instances of recognition from students illustrate his excellence as a teacher.
The longtime adviser to the Illinois Student Chapter of the American Veterinary Medical Association won the Carl J. Norden Distinguished Teacher Award, the College Teaching Excellence Award, and the Chicago Veterinary Medical Association Outstanding Instructor Award and was a frequent choice to give commencement and senior class addresses.
Dr. Lock retired from the University of Illinois College of Veterinary Medicine in August of 2004 after 32 years of teaching. He then continued working with breeding farms in Illinois and Indiana.