Susan L. White, DVM, MS, DACVIM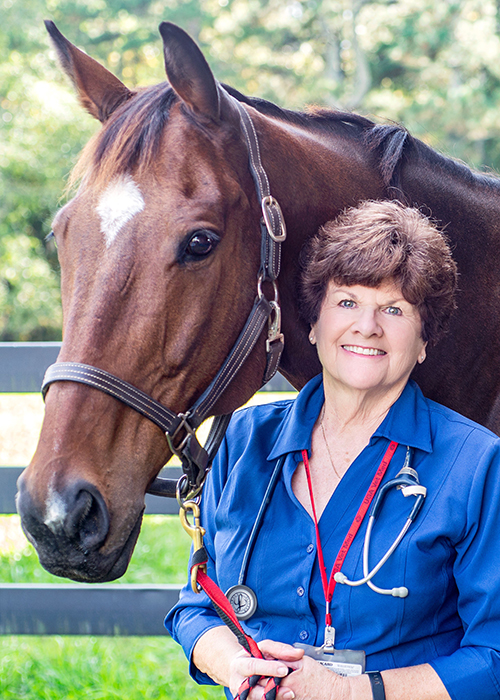 Susan L. White, DVM, MS, DACVIM
Dr. Suzi White served as a mentor to both students and colleagues throughout her career and has been a leader and champion for working equid (Equitarian) support and programs.
Dr. White received her veterinary degree from the University of California, Davis in 1973. She entered a large animal internal medicine residency in 1976 at the University of Georgia, where she joined the faculty in 1980 and later became a Josiah Meigs Distinguished Professor, Emeritus at the University of Georgia College of Veterinary Medicine.
During a career of meritorious service to the AAEP, Dr. White served on the board of directors from 2003–2005, and she has been active as a member or chair of numerous committees, councils, and task forces since 1982. She chaired the Educational Programs Committee, Membership Committee and Pediatrics Committee; and she served on the Equine Welfare, Nominating, and Scholarship committees and on The Foundation for the Horse Advisory Council, among others.
As a member of the AAEP's Tennessee Walking Horse Task Force, Dr. White co-authored the 2008 white paper, "Putting the Horse First: Veterinary Recommendations for Ending the Soring of Tennessee Walking Horses." She also served on an ad hoc committee for the National Academies of Sciences, Engineering, and Medicine which published in 2021 a consensus report titled "A Review of Methods for Detecting Soreness in Horses" describing the committee's conclusions about the validity and reliability of methods and providing recommendations to improve the efficacy and consistency of approaches to identifying soreness. In addition, she taught Essential Skills Workshops to AAEP student chapter members at universities across North America.
Among her many accolades are the 2009 Robert W. Kirk Award for Professional Excellence from the American College of Veterinary Internal Medicine, the 1989 Josiah Meigs Distinguished Teaching Professorship from the University of Georgia, the 2006 J.T. Mercer Lifetime Achievement Award from the Georgia Veterinary Medical Association, and the 2020 Distinguished Life Member Award from the AAEP.
Mentee Comments
I met Suzie at Thanksgiving dinner some 45 years ago over libations and stories being told while waiting for a turkey that refused to achieve doneness. Even in that social environment, it was apparent that she was a teacher inherently building knowledge bases about science and horses as she moved through the world. While I never took a formal class of hers, she was constantly sharing content and developing clinical skill and scientific thinking while providing observational tips with those she encountered. It did not matter if you were an Olympic rider, a 4-H member, an internationally acclaimed physiologist, a bench scientist, a state regulator or an owner, Dr. White would make time to teach, explain and advocate for the horse.
She has made us better scientists, equestrians, and collaborators. When working in groups, Suzi dexterously moved among leadership, discussion integrator, and synthesizer on broad topics, providing remarkable insights while not shying from the nitty-gritty detail work to make groups function. Suzi was the communicator among the hard scientists, the student needing to integrate what was seen in clinics, professionals in the field, governing/regulatory bodies, and the horse. She could and does advocate for each, as necessary. And she taught many that it was possible to collegially do the same. Dr. White has supported many veterinarians over the multiple stages of their careers, bringing out the best in them and those they worked with. Her understanding across breeds and disciplines in the horse world stands beside her broad medicine teaching in neurology and dermatology over various large animal species. Suzi has mentored and inspired many, and I was fortunate to be one.
– Pat Maykuth, Ph.D., Decatur, GA.
Suzi taught me how to trust my instincts, never forget the powerful impact of the physical exam, and to pay attention to details. I would not be who I am today without the internal medicine smarts that she passed long. For that, I am eternally grateful, along with the thousands of veterinary students, interns, residents, and veterinarians she taught over the decades. Thank you, Suzi, for making all of us better veterinarians for the horse.
– Michelle Barton, DVM, Ph.D., DACVIM, University of Georgia College of Veterinary Medicine, Athens, GA.
Dr. Suzi White is the consummate educator and mentor for students, clients, and veterinary colleagues. She combines open communication with many practical tips or considerations gleaned from her brilliant career in academia, providing the "why behind the what" for case management to proceed logically despite the detours we all face!
Suzi has also served as a stalwart role model for young veterinarians moving through their careers, acting as both their cheerleader and coach in the game of life! Leadership is not about titles, positions, or flow charts; it is about one life influencing another. Dr. Suzi White has influenced countless lives with her kindness, knowledge, and experience. Thank you, Suzi, for leading the way!
– Kathleen Anderson, DVM, Equine Veterinary Care PC, Elkton, MD.
Suzi was a year ahead of me in vet school at Davis and way more than a year ahead of me by the time I ended up on faculty at Georgia. She had a wealth of knowledge, incredible diagnostic skills, and was an amazing teacher. This is a well-deserved honor for someone who has served as a mentor and friend to so many veterinarians. It is great to see her on the My Mentor Honor Wall.
– Jim Moore, DVM, Ph.D., University of Georgia College of Veterinary Medicine, Athens, GA.
Suzi became my mentor when I joined the University of Georgia as a brand-new faculty member straight out of a Ph.D. program. While I had already worked as a clinician for a few years before I met Suzi, there is no question that working with her made me better than I would have been otherwise. Her intelligent, passionate, no "BS" approach to clinical practice were, and still are, inspirational. Suzi is the quintessential clinician. Just the other day, over 20 years after she gave me her advice for establishing milestones for patients with neurologic disease, I found myself relaying the same advice to a rounds room full of vet students. Suzi's influence on clinical veterinary practice will be active for a long time to come.
– Amelia R. Woolums, DVM, MVSc, Ph.D., DACVIM, DACVM, Mississippi State University College of Veterinary Medicine, Mississippi State, MS.
Many thanks for your friendship, guidance, and support!
– Tamara Gull, DVM, Ph.D., DACVIM, DACVM, University of Missouri College of Veterinary Medicine, Columbia, MO.
Dr. White has been an invaluable mentor to me throughout my career. While my early interest as a student was in surgery, Dr. White opened my eyes to the challenges and rewards associated with internal medicine cases. In general practice I learned that those challenging cases were indeed the ones I most enjoyed, and Dr. White encouraged me to reconsider specialty training. She has continued to be a wonderful mentor to me throughout my career.
– Harold C. McKenzie, III, DVM, MS, MSc (VetEd), FHEA, DACVIM, VA-MD College of Veterinary Medicine (Virginia Tech), Blacksburg, VA.
From the start, Suzi invited me along on her journeys. These journeys were really not her journeys, they were mine. She facilitated and encouraged me on my journey as an equine veterinarian. From research work prior to the Atlanta Olympics, to inviting me to the AAEP Leadership meeting, to bringing me to the Annual Presidents luncheon at AAEP, you helped me to realize all the things that are possible as an equine veterinarian. …And you have a whole flock of us out there that you have truly impacted for a lifetime. It has been an honor my friend! Thank you.
– Karen A. Nyrop, DVM, MS, Didsbury, AB.
Thank you for being a wonderful mentor early in my academic year. I sincerely appreciated you taking me under your wings and teaching me more about equine neurology.
– Joan R. Coates, DVM, MS, DACVIM-Neurology, University of Missouri College of Veterinary Medicine, Columbia, MO.
Dr. White has been a strong mentor for me through all steps of my career. As a student, she was my assigned faculty mentor and a trusted teacher who helped guide me in my career choices. I then worked with her as an intern and an internal medicine resident where she guided me as I developed my skills as a veterinarian, as an internist, and as a teacher. There are so many things that I do and say now with my students that are direct reflections of her mentorship of me. It makes me smile every time I say something to my students and hear her voice in my head saying it to me all those years ago. I have great admiration for everything she has done in her career, and I have great appreciation for everything she taught me about being a veterinarian, a teacher, and a mentor.
– Erin S. Groover, DVM, DACVIM-LA, Auburn University College of Veterinary Medicine, Auburn, AL.
There are teachers who I cannot recall their names nor their faces. I came to class; I took the tests and received a Grade. Then there are teachers who shape you, guide you and have a lasting influence on the persona that you become because their influence was so profound. Suze White was one of those teachers for me. She was intimidating. She could ask a group the simplest of questions and we'd all go blank. Later we knew all along we could find the answers. She was developing us as thinkers. Suzi was a walking bank of information and could recite an endless list of research and papers. For many years after graduation, she was my most important resource while I navigated my career as a solo practitioner.
A truly deserving veterinarian, practitioner, teacher and so much more. I salute you and your many accomplishments.
– Charlene B. Cook DVM, Central Georgia Equine Services, Inc., Ft. Valley, GA.