Stephen P. Dey II, DVM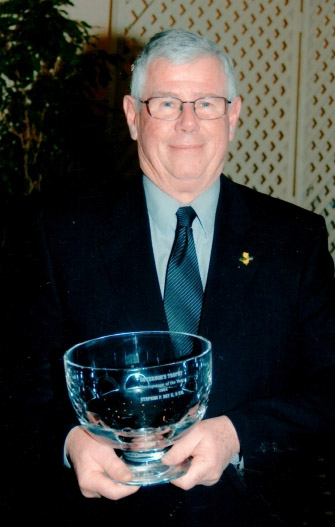 Dr. Stephen P. Dey II graduated from the New York State College of Veterinary Medicine at Cornell University in 1960.
From there, he completed an internship in the equine clinic of the University of Pennsylvania CVM. In 1962, he began his private practice in New Jersey.
A Standardbred breeder and driver, he won with homebred HH Kathy when a non-betting card of NJ Sires Stakes races was run at the Meadowlands to test the new track.
Throughout his career, Dr. Dey served the equine veterinary profession as a member of the AVMA, AAEP, Rutgers University Board of Equine Advancement, Cornell University CVM's Research Grants Committee and Theriogenology Committee; and on the Board of Directors of the NJVMA, as President of the CJVMA, and as President of the NJAEP.
His leadership to community organizations included the Horse Park of New Jersey, Allenton FFA, Monmouth County 4-H, New Jersey Farm Bureau, Animal Emergency Preparedness and Response Committee, Vision for Agricultural Education, New Jersey Equine Advisory Board, New Jersey Horse Council, New Jersey Agricultural Society, State Board of Agriculture, Governor's Agriculture Transition Team, College of Biological and Environmental Sciences, and the Equine Science Center of Excellence.
Dr. Dey was named "N.J. Horse Person of the Year" in 1990 and 2004 and was presented with the "Spirit of the Horse" award in 2007.
Sadly Dr. Dey passed away in 2010, but leaves a legacy through his two sons, Stephen P. Dey III, VMD and Gregory S. Dey, DVM, his daughter, Wendy D. Martin and six grandchildren.