Roger J. Panciera, DVM, MS, Ph.D., DACVP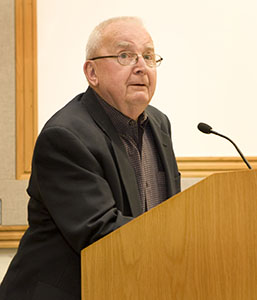 Roger J. Panciera, DVM, MS, Ph.D., DACVP
Renowned as one of the giants in veterinary pathology, Dr. Roger Panciera was revered for his knowledge and teaching during more than four decades on faculty at PancieraOklahoma State University.
He received his veterinary degree in 1953 from Oklahoma A&M College (renamed Oklahoma State University several years later) before earning his master's and Ph.D. in veterinary pathology from Cornell University. He joined the faculty at Oklahoma State as assistant professor in 1956, became a professor in 1963 and was appointed head of the Department of Veterinary Pathology in 1979. He retired in 2000 to serve as an Emeritus member of the faculty.
During his career, Dr. Panciera taught veterinary pathology to nearly 95% of all veterinary graduates at Oklahoma State, and he trained virtually all the state's veterinarians. He has authored nearly 130 articles in the most prestigious veterinary medicine journals and, in whole or in part, is responsible for the original pathologic descriptions of several domesticated animal diseases.
Dr. Panciera is a three-time recipient of the Norden Distinguished Teaching Award, the most prestigious teaching award in the university's veterinary college; the inaugural recipient of the college's Distinguished Alumnus Award; and recipient of the Charles Louis Davis Foundation's Harold W. Casey Teaching Award. Other accolades include selection as Oklahoma Veterinarian of the Year in 1992 and election as a Distinguished Member of the American College of Veterinary Pathologists.
Mentee Comments
"I genuinely believe that most OSU grads consider Dr. Panciera to have been their best teacher. He certainly did not treat us with kid gloves and at the time many of us were too young and dumb to know how important he was to our success. He set very high standards with little sympathy for our alleged arduous schedules. I almost hated the guy until I woke up one day to realize I adored him. Only in hindsight did we realize he was preparing us for practice; for life; for success. It took a while but I'm grateful to have been able to tell him how much I appreciate his impact on my life. This recognition is an excellent accolade for him."
—Rocky Bigbie, DVM, MS, DACVPM, Guthrie, OK
"Roger Panciera was and has been a constant mentor to me and many of my fellow OSU classmates. He demanded a complete understanding of pathology in his courses and would not take any BS in discussions. You knew that if you did not know a pathological process then said you did not know. He kept in touch with us after graduation and continued to challenge and mentor us. He was the first to work out the process of blister beetle toxicity in the horse. He was certainly the "brightest orange"- devoted to the vet college and OSU. The number of outstanding pathologists he has tried out is impressive. Those of us that were honored as distinguished alumni this year were all devotees of Roger. Even after all his health problems and many years of retirement he is still mentoring students and alumni. He is very deserving of recognition on the My Mentor Honor Wall."
—R. Reynolds Cowles, Jr., DVM, Blue Ridge Equine Clinic, Earlysville, VA