Robert W. Copelan, DVM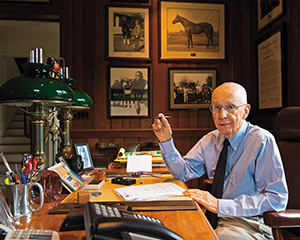 A pioneer in the field of equine surgery, Dr. Robert "Bob" Copelan was one of the 11 founding members of the American Association of Equine Practitioners (AAEP) at the
Brown Hotel in Louisville, Ky., in 1954. He served as its president in 1973 and continued to participate on multiple AAEP committees over the years. Throughout his illustrious career, Dr. Copelan has mentored many who have worked with him.
Dr. Copelan was among the pioneers of equine joint surgery in the 1960s at his hospital at Sunnyside Farm in Paris, Ky., which he owned in partnership with John Thornbury.
Even before Dr. Copelan graduated from The Ohio State University (OSU) School of Veterinary Medicine in 1953, he had begun to make a mark in racing as an exercise rider at Calumet Farm, where he was involved with breaking 1952 Kentucky Derby winner Hill Gail.
Dr. Copelan became a racetrack practitioner following graduation, traveling regularly among tracks in Florida, Kentucky and Illinois. Among the many distinguished horses entrusted to his care at Sunnyside was Susan's Girl, who after surgery went on to become the first of her sex raced exclusively in this country to earn $1 million.
In addition to his veterinary work, Dr. Copelan for a time assisted with yearling selection for Keeneland sales; and, as an adviser, he contributed to the emergence of the late W.T. Young's Overbrook Farm racing and breeding program.
He has long taken active roles with Thoroughbred racing issues and has served as a member of the Related Medications Committee of the Kentucky Equine Drug Research Council. Dr. Copelan received the OSU Distinguished Alumni Award in 1978, and was named AAEP Distinguished Live Member in 1992, honor guest of the Kentucky Association of Equine Practitioners in 2000, and honor guest of the Thoroughbred Club of America's 76th annual testimonial dinner in 2007.
Mentee Comments
No one has ever had a better mentor, friend, confidant or role model than Bob Copelan. As a pioneer in the field of equine surgery, as well as one of the eleven pioneers that founded the AAEP at the Brown Hotel in Louisville in 1954, his vision did much to shape the specialty of equine medicine and surgery.
Though a veterinarian to the stars of Thoroughbred racing during his busy career, he still found time to personally mentor students, residents and young veterinarians who made his acquaintance through his connection to his alma mater, The Ohio State University, or through one of his talks to student organizations.
It was my good fortune to meet Bob Copelan early in my career. He helped to shape my interest, increase my competence and promote my advancement through the minefields of a young veterinarian's professional development. He taught me about surgery, about the horse and about people. More than anything else, Bob taught me that quality and ethics had no substitutes. You did not break the rules, and second-rate performance never had any place in his day. Whether by the "Hand of Fate" or the "Grace of God," the day I met Bob Copelan holds second place only to the day that I received my diploma as an enabler for my development as a veterinarian. No one ever had a better mentor than Bob Copelan!
– Larry R. Bramlage, DVM, MS, DACVS, Rood and Riddle Equine Hospital, Lexington, KY
Photo Credit: Anne M. Eberhardt/BloodHorse