Margaret (Meg) Mullin, VMD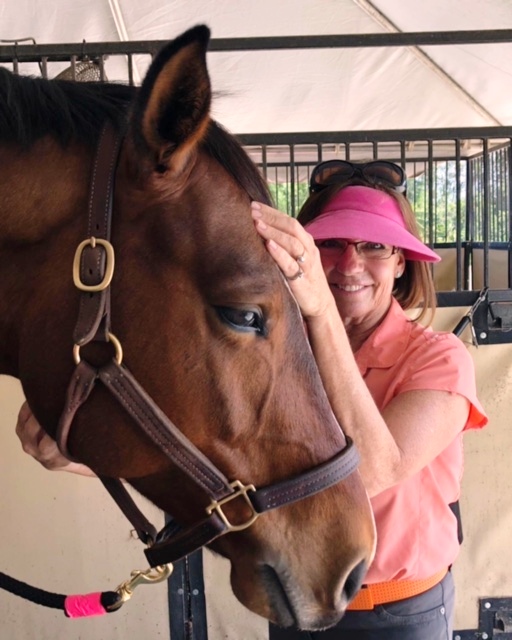 Margaret (Meg) Mullin, VMD
A native of Philadelphia, Meg was an avid horsewoman from age 5, competing in hunter/jumper shows, learning polo at University of Virginia, and training young horses in a prominent show and sale barn prior to obtaining her VMD from University of Pennsylvania in 1996.
Dr. Mullin spent her entire professional career at B.W. Furlong & Associates in Oldwick, N.J. and Wellington, F.L., from 1998-2023, and at the time of her passing was the longest tenured clinician. Throughout her career, Dr. Mullin also served as the U.S. Equestrian Team Veterinarian in dressage, show jumping and at the world championships in driving and vaulting.
Dr. Mullin was honored to work with the USA's youth show jumping teams, and most recently as the United States Dressage Team Veterinarian at the 2020 Paralympics in Tokyo.
Will Connell, former U.S. Equestrian Federation Director of Sport, sums up the essence of Dr. Mullin, who died March 9, 2023 following a riding accident this way:
"Dr. Meg was a beloved veterinarian who dedicated her life to what she did and had fun doing it. She was very much part of the team behind the Para-Dressage team that helped it go from out in the wilderness in Rio (Paralympics 2016) to the podium (bronze medal) in Tokyo (2021). That's without doubt part of her legacy."
She traveled with the team at the 2022 FEI Para Dressage World Championships in Herning, Denmark, where the team finished with a bronze medal and captured several individual medals as well. Dr. Mullin most recently traveled with the U.S. Jumping Team to their European Tour in the fall, including stops in Spain and Portugal.
Through her work as an FEI veterinarian, she served as Veterinary Delegate at prestigious events, including the Central Park Horse Show, U.S. Dressage Olympic Selection Trials, and many others.
Committed to continuing education, she recently completed a three-year term on the AAEP's Scientific Review & Editorial Committee. To expand her capacity to help horses thrive, she studied equine osteopathy, reiki energy healing, and craniosacral therapy.
Experienced with all types of horses, her favorite equestrian pastime became playing polo. She was an avid competitor at the Cypress Polo Club in Lake Worth, F.L. during the winter, and during the summer at Tinicum Polo Club in Pennsylvania, near her home in Clinton, N.J.
Her other passions included spending time with family and friends, travel, yoga, tennis, skiing, and football. Dr. Mullin checked off a major bucket list item and attended the Super Bowl to root for the Philadelphia Eagles in February 2023.
"She meant everything to us," said Dr. Brendan Furlong. "Meg was a force to be reckoned with. Her love of life and her dedication to the practice and to her colleagues and to the horses was phenomenal."
Mentee Comments
"All of us at Ashmeadow Farm are devastated about the loss of our dear friend, Meg. She was kind, smart, hard-working, upbeat and always put the needs of the horses first. She made me strive to be a better horsewoman. I will miss her dearly."
— Amanda Steege, top hunter rider.
"Dr. Mullin's passing is a huge, huge loss for us, the team and the industry."
–Lizzy Chesson, the USEF's manager of show jumping
"Dr. Mullin had pure delight every time she got on her horses and let her rough-coated Jack Russell, Scooby, run around at the polo club. Her charisma was felt by the club members as well, as she gave encouragement and smiles to everyone, both on and off the field. She just enjoyed every minute of being with the animals and being outside. She was smiling from ear to ear until she was done."
–Carolyn McKay, manager at Cypress Polo Club, Lake Worth, FL
"I am devastated, but I do want to celebrate her life, her incredible legacy. And well, just say thank you. I had started a business in North New Jersey. it must've been the first year or two that I met Meg, and instantly knew there was nobody else that I wanted treating my horses. She was just so damn good. She knew horses on a level that few do . Basically the next 10 years she became so important to my business and me as a person. She made you better just being around her. She knew horses so well. Every time I was around her it was like being in a master class of horsemanship. For quite a few years I had an incredible team, clients, customers, horses, and success. I believe it would have not gotten to that level without her.
Meg had this amazing ability to make hard times just a little bit easier and the good times that much more rewarding. I know how hard Meg worked and how incredible she was. Every time she was at the barn or competition, she made you feel like the most important person. I trusted her opinions and her guidance probably more than anyone in my life. Having Meg as my vet, my captain really, allowed me to become a better trainer, a better rider, a better horseman. So I want to say thank you Meg for your guidance, your support, your service and most of all your friendship. You will be truly missed by so many.
–Robbie Burroughs, Show Rider and Head Trainer at ROB Burroughs Showhorses