Richard A. Mansmann, VMD, Ph.D., hon. DACVIM-LA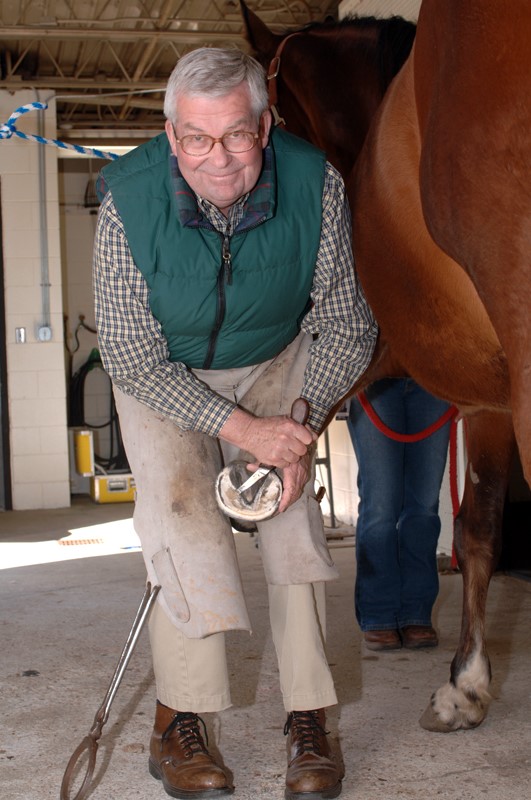 Richard A. Mansmann, VMD, Ph.D., hon. DACVIM-LA
Dr. Mansmann has a long-standing interest in equine sports medicine as a 4th generation rider and horse owner and as veterinary practice owner in Santa Barbara, Calif., and currently in Chapel Hill, N.C.
He is a 1968 graduate of the University of Pennsylvania School of Veterinary Medicine and received his Ph.D. in 1974 from the University of California, Davis School of Veterinary Medicine.
Dr. Mansmann has authored or co-authored books such as the 3rd edition of Equine Medicine and Surgery, Equine Lameness and Equine Podiatry. He has also published papers in equine sports medicine areas, including metabolic issues, respiratory problems, lameness, rehabilitation, and podiatry. For a publications list, see his Google Scholar Profile. In addition, he has given talks in many states and abroad.
Dr. Mansmann worked at four veterinary colleges, most recently as founding Director of the Equine Health Program and the Podiatry and Rehabilitation Service at North Carolina State University College of Veterinary Medicine.
He retired from academia to reopen his private practice working with chronic equine lameness and foot problems in 2010. That same year, he was made an honorary Diplomate of the American College of Veterinary Internal Medicine – Large Animal area. He has been a member of the American Association of Equine Practitioners since 1968 and has served on several committees. In 2002, he became the 13th inductee into the American Farriers Journal Veterinarians' International Hall of Fame.
He very much enjoys sharing information with anyone interested, especially at the side of a horse!
Mentee Comments
I first met Dr. Richard Mansmann when he was assigned as my mentor for the Merck Merial Veterinary Scholar Research Program. At the time, I did not realize the significant impact his mentorship would have on my career and life. That summer I learned the fundamentals of being a veterinary scientist and the importance of always being inquisitive. It was abundantly clear to me early on that Dr. Mansmann had tremendous expertise to share and that he earnestly loved teaching and mentoring.
Dr. Mansmann's extensive horsemanship and riding experiences are assets that have helped him become a distinguished equine veterinarian. He has always encouraged me to rely on my foundation of horsemanship and riding experience to help enhance my veterinarian career, especially with sports medicine cases. His mentorship continues, and I know I can contact him at any time about issues in my practice and he will guide me and share his extensive experiences. He has always given me excellent advice, even if at times I was not ready to fully absorb it. I consider myself very lucky to have Dr. Mansmann in my corner.
Kate Echeverria, DVM, MS, DACVIM, Ocean State Equine Associates, North Scituate, R.I.
Dr. Mansmann comprises the complete package when describing a mentor. His skill and experience level combined with a desire to educate and improve the knowledge and technical abilities of the farriers, veterinarians and students who seek his advice have influenced many individuals. If you make the effort to seek him out and listen, you will benefit!
Bob Meyer, DVM, Neuse River Equine Hospital, Wendell, N.C.
Dr. Mansmann has been a valued mentor to me since our paths first crossed in the mid-90s. I have the utmost admiration and respect for Dr. Mansmann and his approach to, and accomplishments in, veterinary medicine. He is a champion and pioneer of the veterinarian-client-farrier relationship, and his passion and expertise in equine podiatry guided me through many difficult foot cases.
Working with Dr. Mansmann is a highly collegial, educational, and rewarding experience. He gently nudged me forward when my surgical effort was not quite "brave enough," and he taught me when to hold back and let "things" play on before taking the next step. His sage advice, wry sense of humor and holistic approach to the horse have been welcomed and frequently sought by generations of students, new graduates, and peers alike.
Dr. Mansmann has provided encouragement, support, enthusiasm and opportunity throughout my career and I am deeply grateful. It is a privilege to know Dr. Mansmann, for the decent, kind, generous human being, and extraordinary veterinarian that he is. It is an honor to be able to consider Dr. Mansmann "My Mentor."
Mathew Gerard, BVSc, Ph.D., DACVS, North Carolina State University, Raleigh, N.C.
Dr. Mansmann immediately welcomed me to NC State and started brainstorming ideas with me. Once he realized that I was an earlier riser, I started receiving morning emails with interesting publications and "What if…?" statements from him. Seven years later, I still look forward to opening my inbox and finding these. Dr. Mansmann is always pushing the envelope and challenging me to think outside of the box to be the best clinician and researcher that I can be and to help us build the best equine program at NC State that we can possibly build.
Dr. Mansmann is 100% dedicated to making sure the next generation of veterinarians truly appreciates and understands the "No Hoof, No Horse" philosophy and repeatedly goes the extra mile to provide them and our house officers with the best educational experience possible. His passion for teaching and mentoring is evident to all who know him as is his witty sense of humor and enjoyment in challenging as many academic rules as possible! Dr. Mansmann is truly one of a kind, and it has been a great privilege to work with him and learn from him.
Lauren V. Schnabel, DVM, Ph.D., DACVS, DACVSMR, North Carolina State University, Raleigh, N.C.
I had the very good fortune to share an office with Dr. Dick Mansmann during my early years at NC State in the mid-90s. I have always considered him to be my ultimate mentor, and we catch up regularly so that we can resolve what is going on in equine veterinary medicine, the industry and the future of our profession (we are still working on this!). Dr. Mansmann is my ultimate mentor because when I was trying to figure out my career after completing a residency and Ph.D. at NC State, I couldn't decide whether to take offers to go elsewhere or to try and stay at NC State. A move seemed like the only option, when Dr. Mansmann told me "pick the place, not the other way around, and make it happen at that place!" I have never forgotten that advice and have Dr. Mansmann to thank in very large part for the way my career turned out. He was there to talk to me as a mentor, colleague, and expert equine veterinarian when others could not or would not fill that role—and he remains that way in my mind to this day.
We worked extensively together when NC State launched an Equine Health Program. Nobody really knew what that was at the time, so we kind of made it up as we went along. He took charge of the outreach component, and I took charge of working with the faculty, residents, and students internally. Dr. Mansmann's approach to how a university engages with equine veterinarians and horse owners has always stuck with me—it's a collegial, customer service-driven perspective that gets universities out of saying "let's just wait for them to come to us."
He is also highly imaginative on upcoming trends in equine veterinary medicine, most notably podiatry, but also with rehabilitation of equine patients. He will always be a leading figure at NC State University, the local practice area, and the equine world in general in my mind. As he would say to me when we at the university were struggling with something, sometimes you just need someone to "shed a little gray hair" on the issue to makes things work! I can't thank him enough for allowing me to take advantage of that gray hair, and of being the mentor figure I will always feel like I just have to take care of the big picture.
Anthony T. Blikslager, DVM, Ph.D., DACVS, North Carolina State University, Raleigh, N.C.
A long time ago, in a galaxy far, far away (i.e., a room that no longer houses Field Service for the Large Animal Teaching Hospital at NCSU-CVM), I met a veterinarian from California. The year was 1993. Little did I know at the time, but this veterinarian would become one of the most important influences in my equine veterinary career path.
I came back to veterinary school after recovering from a life-threatening auto accident that forced me to take a year off, drop back to a new class, and start over as a third year student. Dr. Mansmann had sold his practice in Santa Barbara and moved across the county to head the Field Service Department. Perhaps it was a little bit of a parallel "new beginning" that made me feel comfortable initially, but, for many of us who have been fortunate to get to know Dr. Mansmann, it turns out that's just the wonderful person, exemplary veterinarian, and outstanding teacher that he is.
I have ridden all my life, but I have never met an equine veterinarian who integrates horsemanship with clinical expertise like he does. To him, both are equal to "the diagnosis." I have always appreciated his approach to a case: one must be quiet, sit back, listen, and observe, and let the horse show where to start. "No hoof No horse" is one of the life lessons I integrate into my practice on a daily basis. He exemplifies learning by doing, asking questions, and seeking knowledge from all sources, not just "what we already know" or what has been published.
I am a better student of the horse thanks to Dr. Mansmann and my lifetime of education continues. It is an honor and a privilege to consider him my mentor.
Robin E. Smith, DVM, Yellowhorse Mobile Veterinary Service, Concord, N.C.
In 1984, I had the choice of accepting a position as a racetrack veterinarian in Florida or becoming an intern at the Santa Barbara Equine Practice under the tutelage of Dick Mansmann for half the salary. Choosing to start my career with Dick's mentoring was the best decision of my career! He is a curious individual and would often share his thoughts (that typically occurred while he was shaving) first thing in the morning as I arrived at the clinic. In addition to learning all about equine thoracic diseases, I was able to place innumerous chest tubes and see what effects racetrack dirt blown into the trachea had on our Appaloosa plasma donor (not much).
The 1980s was also a time for advancement of neonatal medicine, and we developed a neonatal hospital service with only two veterinarians by recruiting many clients as volunteer foal-sitters. Dick was also great at reaching out to local medical experts, and we worked with a respiratory therapist, a mobile radiography service for thoracic films, and others. Dick organized semiannual CE meetings for southern California veterinarian and invited speakers from across the US. He also organized the travel arrangements for the main speaker so they would have to spend an extra day with us at the practice—what a marvelous way to meet and learn from many world-renowned veterinarians. Although Dick may be best known for his investigations and description of equine pleuropneumonia, he has also been fascinated with the equine foot and has always been a strong advocate of a good veterinarian-farrier relationship to improve patient outcomes.
Dick Mansmann also truly respects his colleagues in the profession. When he needed a radiographic consult from Dr. Wheat at UC Davis, he would send a check along with the radiographs to Dr. Wheat and turn around and bill the client for this service. As a profession, we would be wise to follow Dick Mansmann's practice philosophy, integrity, and curiosity.
Hal Schott DVM, Ph.D., DACVIM, Michigan State University College of Veterinary Medicine, East Lansing, Mich.