L. R. Hoff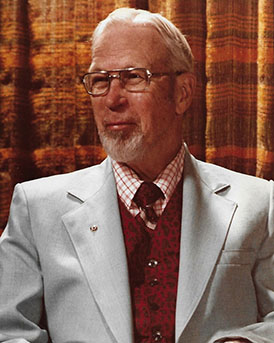 Lowell Ross Hoff was born in Winfield, Ks., in 1900. The son of a Methodist minister, he grew up in a large circle of family and friends committed to education, community and agriculture in the heartland. He graduated from high school in Lincoln, Neb., and after serving in the Army in WW I, received his Baccalaureate degree in journalism. He went on to teach mathematics, history, English and industrial arts in addition to serving as a college administrator. He received his master's degree in Education and Psychology from Northwestern University and did additional graduate work at Kansas University and Colorado State College (now CSU).
He married his college sweetheart Fern Humphrey and raised three children outside of Wichita, Ks. Being a man of many talents and having endured our country's hardest times, his occupational endeavors ranged from teacher, educational administrator, wheat farmer, hardware and auto parts store owner, real estate developer and insurance agent.
After tragically losing his wife to cancer, he rose to the task of supporting a family of three children during WW II. In 1948, he relocated with his family to Santa Monica, Calif., where he owned a carousel on the now famous Santa Monica Pier. But city life left him missing his heartland roots and, in 1962, he purchased 80 acres in the Santa Ynez Valley, north of Santa Barbara, Calif. Here he enjoyed raising cattle, riding and breeding his beloved Tennessee walking horses and sharing these passions with his grandchildren. He loved music, dancing, poetry, carpentry and remained committed to community through the Methodist church and Rotary club. Mr. Hoff was also a Mason, a member of the Royal Arch and Knights Templars order.
Lowell Ross Hoff passed away in Santa Barbara in 1990 after a full life that indelibly touched his three children and seven grandchildren.
Mentee Comments
They say many interests and passions skip a generation. This would certainly be true for how my grandfather's love of horses touched my life.
I grew up the daughter of a successful aviation engineer in West Los Angeles, Calif., but every spare moment was spent on a pony or horse, driving the Rotary carriage in a Fourth of July parade, or attending an auction to sell cattle alongside my grandfather in Solvang, Calif.
This overly educated "heartland hippie grandpa" would drive me up the Pacific Coast Highway in an old Volkswagen van to escape the city every weekend, where I entered a pastoral equine wonderland. Those were the days before the Santa Ynez Valley became discovered, and my sister and I would ride forever bareback through the hills and on the beaches of central coast California.
My grandfather taught me to look past those equine eyes and ears to "listen" to the silent body language of the horse that has truly enriched my career as an equine veterinarian. He exemplified an understanding of equine psychology in such a manner that enabled me to interact with my patients to result in a more positive outcome.
This gift to The Foundation is made in honor of L.R. Hoff, dedicated to the welfare of the forgotten horse, whom by no fault of their own often find themselves "by the wayside."
Hopefully it will inspire others to contribute towards the "My Mentor Benevolence Endowment."
I am one of those whose life has been blessed by knowing such an amazing man, truly an example of 'the greatest generation'. Thank you, Lowell Hoff, for being "My Horse Whisperer." – Nancy L. Cook, DVM, MS; Advanced Equine Reproduction, Solvang, Calif.