John Thomas "J.T." Vaughan, DVM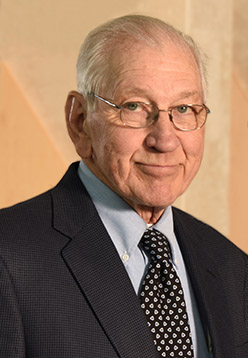 John Thomas "J.T." Vaughan, DVM
Dr. John Thomas Vaughan came from agricultural roots to lead the Auburn University College of Veterinary medicine during a transitional time.
An Alabama native, born in Tuskegee in 1932, his father raised cattle on farms in the area and kept horses to work the cattle. His oldest brother diversified into other livestock, while another older brother became a physician. Dr. Vaughan said, "My father and my oldest brother said they thought I should be a veterinarian, and that suited me to a tee."
After earning his veterinary degree from Auburn in 1955, Dr. Vaughan practiced briefly in Tuskegee. When he brought a cow to Auburn for surgery, the dean recruited him back to the college as an instructor in the large animal clinic. The next dean sent him to the University of Pennsylvania to study equine surgery, then assigned him to teach large animal surgery at Auburn. In 1968, Dr. Vaughan passed the inaugural board examinations of the American College of Veterinary Surgeons.
Cornell University recruited Dr. Vaughan to be a professor of surgery and director of the large animal hospital starting in 1970. He returned to Auburn in 1974, accepting an offer to be department head in large animal medicine.
In the mid-1970's and early 1980's, Dr. Vaughan moved into leadership roles in academia and organized veterinary medicine. He became dean at Auburn in 1977. In 1980, he was ACVS president, and in 1981, he was president of the American Association of Equine Practitioners (AAEP). Regarding the ACVS and AAEP, Dr. Vaughan said, "I've been greatly reinforced and rewarded through the years for my participation."
From 1977 to 1995, Dr. Vaughan served as dean at Auburn and was an active member of the Association of American Veterinary Medical Colleges. During his tenure as dean, the college expanded its research program and graduate training, clinics, and clinical faculty. He provided leadership during the growth of veterinary colleges in the South and the increase in female veterinary students across the country.
After retirement, Dr. Vaughan became active with the AVMA PLIT and was a trustee from 1996 to 2009, serving as chair from 2001 to 2003.
Dr. Vaughan has received several accolades during his career. Among them, Auburn renamed its large animal hospital as the John Thomas Vaughan Large Animal Teaching Hospital in 2003. In 1999 he was named a Distinguished Life Member by the AAEP.
Mentee Comments
I was fortunate to have this fabulous clinician as a teacher. He was a gifted mentor to me as a young student and has continued to inspire us with his knowledge and insights to this day. I am extremely grateful to have had our paths in life connect.
– Margaret Mac Harg, DVM, MS, DACVS, Kendall Road Equine Hospital, Elgin, IL.
In 1972, as I had just finished my very first presentation at the AAEP Convention in San Francisco. I was so darn nervous. When finished and walked off the stage, Dr. Vaughan was there and approached me with his hand out and a smile on his face. He damn near broke my hand with his grip. He says, "great presentation," which it clearly wasn't! But that's the kind of man he is. Always lifting up and praising, while also educating.
I love the "My Mentor" program as it is a way to thank those who actually mentored. Dr. Vaughan, for me, through many decades was the ultimate mentor via how he acted. A great clinician, department head, and then Dean. He has done so with experience as a "Horse Doctor," a surgical innovator, and educator Auburn. His handshake is legendary; his examples regarding how to help others and lead is why I call Dr. Vaughan "My Mentor."
– Bill Moyer, VMD, Billings, MT
A mentor is someone who shares with others and Dr. J.T. Vaughn has dedicated his life to mentoring the equine veterinary profession. His mark on my career and his influence on my life are one I will cherish all my days. His strong grip is over-shadowed by his strong character, which is one we all strive to model. With this donation I declare him, "My Mentor" and hope to honor him for others to celebrate!
– Montgomery D. McInturff, DVM, Tennessee Equine Hospital, Thompson Station, TN
I consider myself very blessed to have had the clinical experiences with Dr. Vaughan prior to him moving into the office of the Dean. The knowledge he possesses and the "eloquent" way he presents it – he is in a league of his own! I am so honored to call him "My Mentor!"
– John Bennett, DVM, Equine Services LLC, Shelbyville, TN
Dr. Vaughan was my boss, my dean, my instructor, and my adopted father and friend and advisor. Truly he was "My Mentor!"
My perspective is a little different since I was hired by him to work at the LAC in 1976, doing anesthesia which continued even after I started Vet school in 1980. I had the perspective of having worked at UC Davis before moving to Alabama. I had the perspective of having worked with world-renown surgeons before coming to Auburn. He was equal to their skills and yet was humble. He was quick and to the point. He didn't dawdle, and yet he took the time to show his residents, interns, and students his thought processes. He has a kind, quiet manner and an excellent sense of humor. He laughed at my jokes.
I remember one day, I set up for anesthesia in the radiology room and forgot the rebreathing bag. I sat and held my hands around the escaping halothane while someone ran to get the bag, as the horse started to wake up. He could have been quite upset, but he just laughed at my pathetic attempt to get the horse to rebreathe the escaping vapors.
I was from California and couldn't return home for many holidays. He and Mrs. Vaughan invited me to both Thanksgiving and Christmas dinners on many occasions.
He continues to show interest in my career and sends very heartwarming letters when he sees publications I have submitted. He sat down and watched an entire YouTube video of a surgical procedure I do here in Australia. He encouraged me to publish it and it has been accepted.
My father was also an equine veterinarian, and so that was another common bond that drew me to him. My father died a few years ago. I consider Dr. Vaughan as my "surviving father."
On my last visit, which was a few years ago, I was greeted with a sign in the kitchen that said Welcome Home. I am so fortunate to have Dr. Vaughan and the many other instructors during my eight years at Auburn. We are a family.
– Elizabeth Woolsey Herbert, DVM, Adelaide Plains Equine Clinic, Gawler, SA, Australia
Dr J. T. Vaughan is the veterinarian that I strive to be and one of the greatest people that I have ever met.
He is the exemplary Auburn veterinarian who personifies veterinary knowledge, ethics, respect, and consideration for others. I am very fortunate to know Dr Vaughan as a veterinary student, resident, and now as a friend – but always "My Mentor."
As veterinary students, Dean Vaughan commanded and earned our respect with his vast experience and knowledge of veterinary medicine and the history and tradition of the Auburn University College of Veterinary Medicine. It was easy for us to admire Dr Vaughan in the hallowed dean's office that no student wants to see the inside of.
Later, when I returned to Auburn as a resident in the large animal hospital, I saw more of how Dr. Vaughan kept the college running. I was really impressed that he could often be seen out of his office seeing what was happening and talking with staff and faculty, whose names he knew. I remember (and still have) a letter that he wrote to my wife and I before we married. I was excited to tell my future wife "Look, Dr. Vaughan wrote us a letter!" I could not believe that he took time out of his busy day to write a resident a personal letter.
Finally, I was able to work as a faculty member in the large animal hospital that justifiably bears his name. I enjoyed having Deans Vaughan and Johnson visit Old Friends Thoroughbred Retirement Farm in Kentucky and introducing them to Kentucky Derby champions and other residents that I care for. Again, I was able to enjoy Dr Vaughan's stories about horses that he worked with, including the great Bold Ruler at Auburn.
All my Auburn instructors taught me to become the best veterinarian that I could be. Dean Vaughan and those who were also inspired by him furthermore taught us how to become honorable, ethical, compassionate, and skilled veterinarians who respect both animals and humans. For this education, I will be forever grateful. War Eagle Forever, Dr Vaughan!
– Bryan M. Waldridge, DVM, MS, DABVP, DACVIM, Georgetown, KY
I missed him! As a student at AUCVM 1969-1973, Dr Vaughan was away at Cornell. But as I massaged my career pathway from a "general / anything / everything" practitioner to the birth & development of Coosa Valley Equine Center, he was back at AUCVM and always there to lend support and encouragement — not to mention pointing out areas of opportunity for growth through recognizing and meeting challenges.
He was never too busy being Head of LAC or President of AAEP, or even Dean of AUCVM to engage and support me. He became an idol for me — a standard to be measured against.
Even though his professional accomplishments were far beyond my reach, I could always try to be as close to a "Dr. Vaughan kind of horse doctor" as I possibly could — even until this very day.
I hope when I "grow up" I can be as much like him as I possibly can. And let us not forget his lovely wife Ethel — she has been an example, encouragement and guide post for my Sandra Jean in the hardest job in America — being the spouse of a veterinarian and more specifically being married to me!!!
– Ed Murray, DVM, Coosa Valley Equine Center, Pell City, Al
Forty-six years ago, I was part of vet student team answering an ambulatory call with Dr. Vaughan. It was spring break. Dr. Vaughan was Director of the LAC. He communicated the professional satisfaction that can be derived from a "routine" horse call. In those early years of practice, when presented with challenging and sometimes untimely dilemmas, I often asked myself; "What would Dr. Vaughan do?" In my mind the support and consultation of the mentor was always forthcoming.
Thank you, Tom Vaughan, for your scholarship, wit, high expectations, encouragement, and humanity. They are contagious, and I was lucky to be exposed. Thanks also for years of "Apocrypha"-the Auburn saga. Ethel, we appreciate that you shared your husband with so many of us.
– A. Greg Thompson, DVM, Spruce Pine, NC