Jean-Marie Denoix, DVM, Ph.D., Ass. LA-ECVDI, DECVSMR (Equine), DACVSMR (Equine)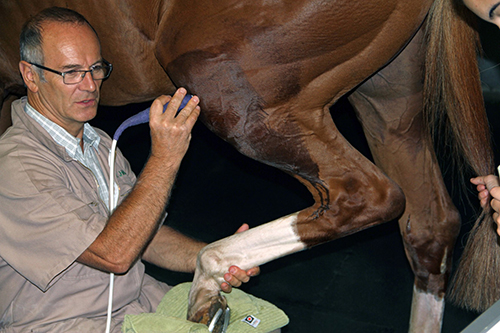 Jean-Marie Denoix, DVM, Ph.D., Ass. LA-ECVDI, DECVSMR (Equine), DACVSMR (Equine)
A horse physiotherapist of international repute and renowned leader in equine anatomy and imaging, Dr. Jean-Marie Denoix has mentored many around the world throughout his career.
Born in France in 1954, Dr. Denoix grew up helping his father on commercial fishing boats off the coast of Normandy while he finished his education. He studied anatomy and veterinary medicine, graduating from veterinary school in Lyons in 1977. Professor Denoix went on to study anatomy, imaging, and biomechanics, lecturing extensively on these subjects in 30 countries. Dr. Denoix is Professor of Veterinary Anatomy and Equine Locomotor System Pathology and Rehabilitation at the National Veterinary School in France, an ACVSMR Diplomate and Founding Diplomate of the European College of Veterinary Sport Medicine and Rehabilitation. He has pioneered some of equine medicine's most innovative techniques in imaging, particularly ultrasound, and has communicated this new information via numerous lectures, books and more than 40 peer-reviewed publications.
Dr. Denoix has donated his time to being the imaging specialist at two World Equestrian Games to further the welfare of the horse in sport. He has worked with multiple farrier organizations to help farriers better understand the anatomy and biomechanics of the equine hoof. His functional anatomy books have helped veterinarians and veterinary students understand the anatomy of the foot and entire horse in a level of detail and comprehension not accomplished previously. Through his work with the International Society for Equine Locomotor Pathology, he has taught in concentrated three-day blocks to 10,000 veterinarians around the world, furthering their clinical abilities.
Dr. Denoix has been a principal figure in the advancement of equine musculoskeletal diagnostics. His vast knowledge of equine anatomy coupled with his enthusiasm for diagnostic imaging, particularly ultrasound, has opened new doors for understanding pathophysiology of equine musculoskeletal disorders. Through his teaching and publications, he has enabled practitioners throughout the world to practice an advanced level of diagnostic medicine not previously thought possible.
Mentee Comments
I have Dr. J M Denoix to thank for greatly enhancing my practice life. He opened doors to a better understanding of functional anatomy and diagnostic imaging. His teaching inspired me to be a better practitioner and encouraged me to pursue further education. He has been a huge influence on how I have subsequently mentored younger veterinarians.
– Richard D. Mitchell, DVM, MRCVS, DACVSMR, Cert. ISELP, Fairfield Equine, Newtown, CT.
Professor Denoix has been for the last 35 years and still is, the most inspiring figure in the horse´s lameness world. He has created a completely new perspective to approach musculoskeletal pathology. I have no words to thank him enough for how much and how well he is sharing his vast knowledge. Thank you, Professor!
– Jose Manuel Romero, Veterinario, Cert. ISELP, DACVSMR, ECVSMR, CertEspCEq.
Dr. Denoix teaches forgotten equine anatomy, integrates biomechanics, and brings the puzzle to life with objective reasoning. I wish to personally thank Dr. Denoix for rescuing me from an equine practice of arrogance, nourished by an incomplete knowledge of fundamentals. As my understanding of the puzzle begins to move (with or without lameness), I anticipate discovering the next puzzle piece. If inspiring passion is a function of a mentor, Dr. Denoix is My Mentor.
– Michael Hoge, DVM, Cert. ISELP, Murrieta Equine, Prescott, AZ
I am now in my 37th year of practice and devote 100% of my time to lameness problems. There is no single person in my career that has influenced me more than Dr. Denoix in my approach to imaging and lameness issues. Dr. Denoix has devoted his life to teaching other veterinarians his knowledge of anatomy and lameness diagnostics and continues to do so throughout the world.
– Michael Sorum, DVM, MVetSc, DABVP (Equine), Cert. ISELP, Sorum Veterinary Services Inc, Scottsdale, AZ.
I first met Professor Jean-Marie Denoix at an ISELP conference in 2014. After watching his live dissection and ultrasound demonstration on a live horse in conjunction with three intense days of lectures followed by a day of his teaching us in the wet lab, I was blown away with how extraordinary this man is. Not only is he brilliant but at the same time able to be so practical. I was hooked and became an ISELP junkie! Over the course of the next five years, I attended 4-6 ISELP conferences annually and studied professor Denoix 's notes and imaging daily. He has changed my approach to the way I practice medicine. His emphasis on understanding anatomy and biomechanics with the assistance of excellent imaging has improved my skill set tremendously. As a result, my patients and clients have benefitted with the results. I will forever be grateful to Professor Denoix as my mentor. He is by far the most influential person in my professional career!
– Mitch Lowrey, DVM, Equine Sports Medicine & Chiropractic Care, Estill, SC.
Professor Denoix has spent his career as a mentor to many, both at the CIRALE in Normandy, FR and through his internationally renowned lectures through the International Society of Equine Locomotor Pathology (ISELP). My own relationship goes back to 2004 when I attended a one-week short course at the early days of the CIRALE, pre ISELP. He took a small group of attendees to dinner and to see Standardbred races at the local track. While there he patiently explained what he felt to be his mission, to work with students and practitioners to raise their knowledge of musculo-skeletal anatomy and to use diagnostic imaging to increase their diagnostic accuracy. In his lectures and in person he would not talk down to practitioners but did expect questions and discussion to be at a level which aided to the general knowledge rather than rehashed what he had already patiently explained.
I once asked him, with respect to his lectures on both sides of the Atlantic, was the largest difference between European veterinarians and those he inter-acted with in America. He looked at me and very carefully replied that perhaps all vets would benefit from working a bit less but spend more time in discussion and careful analysis of what it is that they are actually doing. I can attest that Professor Denoix has spent his career pushing us all to do just that, to raise the level of our knowledge and our discussions. He has taken what others have begun in their teachings of diagnostic imaging and raised that level with his encyclopedic knowledge of equine anatomy.
It is through the formation of the ISLEP group (along with Russ Peterson, Duncan Peters, and Kent Allen) in 2016 that Professor Denoix has touched and improved the level of practitioners worldwide. There is not likely a practitioner worldwide with an interest in the equine athlete that has not attended one or more of his lectures. His 3- or 4-day ISELP seminars follow a careful well scripted formula to convey physical and functional anatomy, biomechanics, case reports, diagnostic imaging, and wet lab. Through these seminars he has challenged us all to raise the level of our practices and to rekindle our study of basic anatomy. Professor Denoix truly deserves to be honored on the My Mentor Honor Wall.
– Noel du Celliee Muller, DVM, ISELP Certified, Los Caballos Equine Practice, Galt, CA.
Jean-Marie possesses both a vast knowledge of both descriptive and functional anatomy the horse as well as an infectious enthusiasm for the integration of anatomy, biomechanics, and gait analysis with the etiologies, pathological manifestations, and therapies relating to lameness and performance aspects of our equine athletes. While perhaps best known for his prowess in the field of equine ultrasonography, which he has championed, Jean-Marie has also enhanced thousands of our fellow sport horse practitioners in the advancement their objective diagnostic and therapeutic approaches, and in understanding the strengths and weaknesses of each of our vast array of imaging options.
Throughout the past 25 or more years, Jean-Marie has carried his multifaceted educational concepts far beyond the shores of Normandy, France to thousands of practitioners worldwide. Through lectures and demonstrations, and the global ISELP program, he has conveyed clinical training applicable across a wide array of equine performance disciplines. His love for the Horse, functional anatomy, the rider-veterinarian-farrier interaction, and the education of his equine practitioner peers has been a driving force for Jean-Marie throughout his career. He has been and continues to be a compassionate and career-changing mentor to me and so many of my colleagues worldwide, and we are ALL THE BETTER because of his tireless mentorship and innovating methodology!
– Russ Peterson, DVM, MS, DACVSMR, ISELP Certified, Peninsula Equine Medical Center, Salinas, CA.
I attended the very first ISELP organized module offered in Connecticut in 2006. The subject was "The Foot". I knew immediately that I was going to do whatever it took to get to the next module. I attended every module at least once, if not twice and became a certified member in 2010. That experience was exactly what I was looking for and what I needed as a developing private practitioner focused on lameness diagnostics and soundness solutions. I needed guidance, practical information, and a literal expert.
Professor Denoix is MY Mentor!
He guided detailed learning in an organized and concise way with unparalleled insight. His vision of presenting anatomy in a practical way has helped me and many of my colleagues through difficult cases. He has tirelessly committed his life to anatomical study, applied diagnostic imaging and has found ways to teach marvelously detailed information to so many. Veterinarians, Farriers, students, and horse owners. All of us. Never holding back an ounce of information. Always willing to share and create discussion.
I experience so much joy when I can bring anatomy to life in an ultrasound image. I credit Professor Denoix for not accepting anything less than a universal image that can be read by anyone in the world. He has developed a shared communication between practitioners in any country, of any language. He provides remarkable and authentic scientific data that compliments and improves clinical practice. Every module, I took home practical information that I used the very next day!
My husband, Dallas Morgan, CJF, is a Farrier. We have an equine practice focused on Lameness and Farriery for performance horses and sport injury. The Farriery concepts Professor Denoix has developed and helped us understand has changed our life and the lives of so many horses. Dallas is eternally grateful for the kindness and knowledge that Professor Denoix extends to Farriers.
Horses are the beneficiary of our enhanced understanding of anatomy and physiology, better diagnostic imaging, and thoughtful treatments. Personally, this has led me to be a more compassionate practitioner. With sincerity, the horses thank you and I thank you for being an awe-inspiring mentor.
– Jessica L. Morgan, DVM, ISELP Certified, Morgan Equine Veterinary & Farrier Services, Aiken SC.
I met professor Denoix in 1999, it was a conference in Buenos Aires, Argentina.
After his lecture, it was about the stifle, I had that feeling that I had never heard this kind of education before, starting with the analysis of the movement, anatomy, and imaging… and it has been like that since.
He is a veterinarian who has really changed the history of the study of lameness in the horse. An unbelievable mind, honestly. He has been able to demonstrate everything of what he says, over 40 years of work. I thank God for living in his times.
– Dr. Alejandro Pedro Echezarreta