Edward Hagyard Fallon, DVM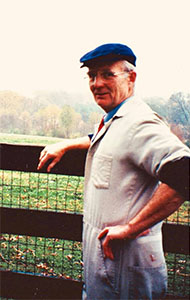 Edward Hagyard Fallon, DVM
Renowned reproductive veterinarian Dr. Edward Hagyard Fallon became the fourth generation of veterinarians in his family after receiving his veterinary degree from Cornell University in 1956. He returned home to Lexington, Ky., to work for his uncle, Dr. Charlie Hagyard, at Hagyard, Davidson and McGee (forerunner of Hagyard Equine Medical Institute). His family's legacy continues through his son, Dr. Luke Hagyard Fallon, Cornell '96, as the fifth generation with Hagyards.
In a career that spanned more than half a century and included stewardship of the revered firm, Dr. Fallon became one of the world's most respected Thoroughbred reproductive practitioners. He was a pioneer in field surgery, in the technique of digital palpation, and in the use of lights to affect a mare's reproductive cycle. With his brother-in-law, Dr. John T. "Jack" Bryans of the Gluck Equine Research Center, Dr. Fallon helped to develop innovative treatments for stubborn equine conditions and diseases, including virus abortion, "shaker foals" and neonatal enterocolitis.
Dr. Fallon cared deeply about everyone with whom he worked, both in the practice and on the farms—from the horse owners to those who cleaned the stalls. He loved his chosen vocation, the people, and the horses. He also loved the city of Lexington, of which he was an active member of the community.
Mentee Comments
Ed Fallon was a mentor to me and many others, both within and outside of our practice. For over 100 years, Hagyard, Davidson, McGee has welcomed students and veterinarians from across the United States and around the world. Some stayed for a few days, some for months, and some for years. These people were always welcomed and invited into our care. Ed Fallon always welcomed these riders and, in the springtime, usually had at least one of them in the vehicle for well over 12 hours a day. During those days, he spent a lot of the driving time teaching, talking about cases or just life in the world of a veterinarian in central Kentucky. Most of us loved the experience and learned the hands-on skills of a practicing equine reproductive veterinarian. He always had time to teach—whether it was while examining a mare or treating a foal, you got a chance to learn from Dr. Fallon no matter what time of the day it was. He taught you how to approach a case and how to get to the outcome. He taught his entire practice career and helped many people become better veterinarians.
—Walter W. Zent, DVM, Hagyard Equine Medical Institute, Lexington, Ky.
After my first year at Cornell in the summer of 1971, the Fallon's took me in as part of the family. Ed patiently explained to this young novice the equine industry, how to be an equine veterinarian and how to treat people of all persuasions that we came into contact with daily. He also showed, by example, how to handle the horses he treated and the people that cared for them; and the importance of always being the best you could be, personally and professionally.
Ed and his young associate, Walter Zent, would stress the importance of exposing young veterinarians (and vet students) to both the ethics and quality needed in equine practice. When I received the AAEP Mentor Award in 2015, Ed was the first person I mentioned in my acceptance speech. He showed me, by example, how to be a mentor and develop that skill as I in turn tried to help those coming along behind me.
— John W. Lee, Jr., DVM, Magdalena, NM