Doug Herthel, DVM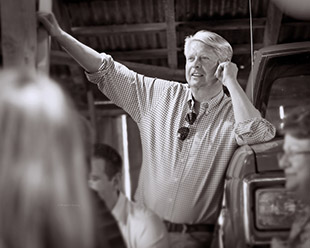 Dr. Doug Herthel grew up in the Calabasas area of California's south coast. He graduated from UC Davis SVM in 1972.
During his time at UC Davis, he was part of the team that conducted the first successful colic surgery, helping to take the odds of survival in cases requiring surgical intervention from 0% to above 90% today.
In his veterinary practice, Dr. Herthel emphasized higher levels of service for clients, peaceful and comfortable environment for patients, and an exceptional level of medicine.
Dr Herthel became the founding father of veterinary regenerative medicine, recognizing that the horse's body, when given the right tools, can heal itself far better than any medical intervention. He maintained a strong belief in the therapeutic benefits of nutrition and of hyperbaric oxygen therapy.
In 1996, Dr. Herthel founded Platinum Performance, developing dietary health supplements for horses, and later expanding the company to include products for dogs, cats, and humans.
UC Davis SVM honored Dr. Herthel with the Alumni Achievement Award in recognition of his development of innovative techniques in equine orthopedic and colic surgery and anesthesia recovery, and his development of a humane ambulance system for injured horses.
Mentee Comments
When I first met Doug, I wasn't really sure what to think. He was unlike anyone I had ever encountered. It was obvious he was always thinking about something, but I was never sure what it was. Within a few months, I figured out that he was always a few steps ahead of where we were in our conversation. My present was usually Doug's past and Doug's present was always my future.
While he was a visionary, he also was a person of action. Rather than just coming up with new ideas, Doug pursued his. In doing so, he taught me that thinking is important, but it is futile without action. It was this approach that set the tone for him as a veterinarian and a mentor. By his actions, he always taught the interns to give the horse a chance. I think about these lessons often and have had horses survive because I had Doug's voice in my mind saying "Keep pushing. You owe it to the horse." For me, Doug's mentorship is defined by these words: Think, Act, Try. I will forever be grateful!
– Jarred Williams, MS, DVM, PhD, DACVS-LA, DACVECC, University of Georgia CVM, Athens, GA
On my first day of my arrival to Alamo, Doug came right up to me, shook my hand, and said "Welcome Home!" I immediately felt welcome in a place that, let's face it, was completely a 180 difference from NY, where I had spent all my life. Though it was a tough internship, Doug created an atmosphere and family that made all of us feel at home, even though we were all so different. Indeed, my intern group was myself (a New Yorker, and the other interns were from Italy, Mexico, and Switzerland).
He was so busy, managing cases, the hospital, Platinum Performance, raising his family….but if you jumped in front of him with a question or needed anything he was right there, with all the patience in the world to answer you, or set up a time where he would sit down to explain. One night I was deathly ill and couldn't even make it to treatments. I don't know how he found out, but he was at my bedside immediately, asking if there was anything I needed, or what he could do to help. Even though he was my boss, it felt like a concerned dad, and even though I was thousands of miles away from home, I felt like everything was going to be ok.
His confidence, patience and dedication to his family and to veterinary medicine passed on to all the vets I had the privilege of working with during my internship and I am very proud and lucky that each one of these veterinarians are still good friends, 15 years later. I can call any of them, at any time if I need help or advice, professionally or otherwise.
I also was taught his Jack Russell like tenacity of going after a case, and not quitting unless there was nothing left to try – which has led to some surprisingly positive outcomes. Not being afraid to think outside the box, communicating in a positive way, making people feel good…then you are only limited by your imagination. Cases that I wanted to quit on, I would ask myself "what would Doug do," and then make it happen. I have his picture right next to my desk to remind me to be the best vet, colleague, and friend I can possibly be, and treat everyone with respect and love. Never stop learning, trying, and learning some more. With that approach, success is rarely out of reach.
–Sarah Gold, DVM, DACVSAR, B.W. Furlong & Associates & Advanced Equine Imaging, Wellington, FL