Dickson D. Varner, DVM, MS, DACT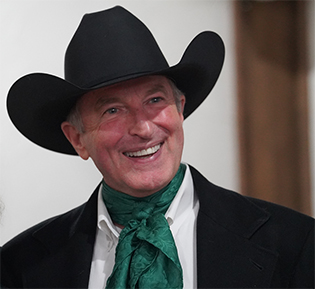 Dickson D. Varner, DVM, MS, DACT
Dr. Dickson Varner's calm demeanor is only part of who he is. Not only is he an avid horseman, cowboy and musician, but he regularly participates in "mountain man" challenges. When not conquering rugged terrain, embracing the outdoors, riding horseback or playing his harmonica, he is practicing, teaching or consulting on equine theriogenology and reproduction.
After receiving his veterinary degree in 1978 from the University of Missouri, Dr. Varner worked as an assistant resident veterinarian at Castleton Farm in Lexington, Ky., for several years before completing a residency program at the University of Pennsylvania. He began his 34-year career at Texas A&M University College of Veterinary Medicine and Biomedical Sciences in 1986, including 19 years as the Pin Oak Stud Chair of Stallion Reproductive Studies and Director of the Equine Reproduction Laboratory. When Dr. Varner joined Texas A&M, the CVM did not have a strong equine reproduction program, but that changed after he showed up. Retired now from Texas A&M, Dr. Varner consults worldwide and is a visiting professor at the Texas Tech School of Veterinary Medicine.
His research is known for having a highly translational emphasis, with a focus on understanding mammalian sperm function, identification of stallion fertility probes, expanding in vitro methods for preserving cooled and frozen stallion sperm, capacitation of stallion sperm, development of assisted reproductive techniques, and subfertility in stallions. He identified a defect in the sperm's acrosome, the "cap" on the sperm's head that secretes enzymes required to penetrate the egg, which severely interferes with fertility of some stallions. He also helped develop the use of computer-assisted sperm analysis for semen evaluation and a variety of ways to improve storage, transport, and insemination of stallion sperm. These techniques ultimately help increase reproductive success in horses.
Dr. Varner has presented the AAEP's Milne Lecture, the Bain Fallon Memorial Lecture for the Australian Equine Veterinary Association, the AndroFest for the International Symposium on Spermatology and the Nick Mills Memorial Lecture for the Lloyd's Market Association.
A Diplomate of the American College of Theriogenologists since 1984, Varner also has served as past president of the college and earned the organization's Theriogenologist of the Year Award in 2002 and Bartlett Award for Lifetime Achievement in Theriogenology in 2016. He was inducted into the University of Kentucky Gluck Equine Research Hall of Fame in 2018.
Mentee Comments
Dr. Dickson Varner is a brilliant, innovative equine veterinarian/researcher and a wonderful human being. Dr. Varner is my mentor, advisor, colleague, friend, and family member. Dr. Varner's keen observational skills, meticulous approaches and determined nature have made him the accomplished problem solver that he is. Through diligent efforts, work from the shared laboratory of Varner and Blanchard has defined reproductive practices that are used by equine veterinarians worldwide. Yet, beyond the professional accomplishments of Dr. Varner are his tremendously kind heart and wicked sense of humor. At professional gatherings, Dr. Varner loves to play the harmonica, recite a funny poem, or twirl a colleague around the dancefloor. More importantly, Dr. Varner lifts up those around him. Whether it is through an introduction to an esteemed colleague, or an opportunity to be a part of an exciting project or procedure, Dr. Varner shares himself freely so that others can grow. I have no doubt that working with Dr. Varner shaped the success of my career. I am forever grateful for the joy that he has brought to my life.
– Margo L Macpherson, DVM, MS, DACT, University of Florida, Gainesville, FL.
Dr. Varner is one of the premier stallion experts in the world, and I have learned much from him over the 30-plus years I have known him. As a mentor, Dr. Varner was a demanding task master because he was always striving for perfection. But at the same time, his sense of humor frequently brought levity to stressful situations, both in the lab and on the clinic floor. Dickson liked thinking out of the box, which lead to innovative solutions to the questions he was trying to answer, and he was always asking probing questions. Dr. Varner has made enormous contributions to the equine breeding industry and will continue to impact the training of generations of specialists in equine reproduction.
– Steven P. Brinsko, DVM, MS, Ph.D., DACT, CVA, Texas A&M University, College Station, TX
There is no question that I am a theriogenologist because of Dickson Varner. He has not only been one of my strongest advocates throughout my career, but his experience, expertise and mentorship have steadfastly encouraged me to be the veterinarian I am today. I spent the first 15 years of my veterinary career in stallion reproduction. Dickson's research at TAMU, as well as his enthusiastic availability for consultation both over the telephone and in person allowed me to offer the highest quality of care of breeders. Dickson graciously opened his TAMU lab to me for research and, with his technician and residents, together we were able to publish several studies valuable to the equine breeding industry.
Dickson raises up all those around him. And he is one funny dude. Quick to share a joke, grab a microphone to sing his own lyrics with some famous band, or just entertain with his harmonica, this now Mountain Man is indeed just that. There are few who have had such a lasting impact on my career as veterinarian, and the paths so many others have chosen. I will be forever grateful to Dickson Varner.
– Lisa Metcalf, MS, DVM, DACT, Honahlee, PC, Sherwood, OR
To say that I had never met any veterinarian like Dr. Dickson Varner prior to starting my Large Animal Theriogenology Residency at Texas A&M, College of Veterinary Medicine (TCVM) would truly be the definition of an understatement. I certainly did not know what to expect when I made the move to College Station in 1986, after spending two years in mostly a Dairy Herd Health practice in Canada.
I was primarily interested in becoming a Dairy Herd Health Practitioner upon graduating from the Ontario Veterinary College in 1984. However, the enthusiasm with which Dickson engaged students, peers, and clients during my time at TCVM was infectious. His razor-sharp attention to detail in conducting research, and deep-thinking challenges to his graduate students as well as veterinary undergrads, was exhausting at times but always fulfilling! When taken in context and also the self-realization that all those what seemed at the time to be excruciating details were actually altruistic efforts on his part to make us into the best veterinarians and theriogenologists we could possibly be. Dickson, without knowing it, mentored and guided me towards what has become a an extremely successful and well-respected lifelong (30+ years) career as an equine theriogenologist in my home province of Ontario, Canada. Dickson, who was a stickler for detail, accuracy, honesty, and integrity in everything that he did, was also always personable, supportive, and kind and wanting nothing more than the best for us under his tutelage. Thank you, Dickson, for helping to shape my career over these past 36 years! You truly deserve this honor.
– Patrick J. Meyers, BSc.(Agr.), DVM, MSc., DACT, Meyers Equine Veterinary Services & Consulting, Rockwood, ON, Canada