Charles W. Raker, VMD, DACVS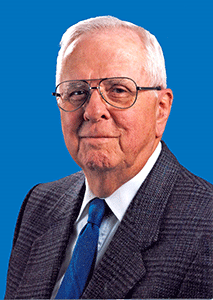 Charles W. Raker, VMD, DACVS
The namesake of the Charles W. Raker Chair in Equine Surgery and one of the founders of the New Bolton Center at the University of Pennsylvania School of Veterinary Medicine was called a "giant" of equine veterinary medicine. A renowned surgeon, gracious teacher and compassionate clinician, Dr. Raker had a professional career that Rakerspanned 43 years, and his work with students and faculty at Penn Vet continued well into his retirement.
A 1942 alumnus of Penn Vet, Dr. Raker spent eight years in private practice before being recruited by his alma mater in 1950 as an assistant professor in its livestock and large animal department. The New Bolton Center, the university's 700-acre large animal hospital campus in rural Kennett Square, Penn., opened in 1952. The opening prompted Dr. Raker to study large animal surgery at Cornell University, and he was appointed chairman of the center's department of surgery in 1956. Dr. Raker helped found and was a charter diplomate of the American College of Veterinary Surgeons in 1965, and he received the Lawrence Baker Sheppard Endowed Chair in veterinary surgery in 1967.
According to a university press release issued upon his passing in 2014, Dr. Raker introduced new surgical techniques and inspired and mentored countless students, interns and residents during his nearly 30-year tenure as the New Bolton Center's chief of large animal surgery. "His mantra for students, house officers and clinicians alike was, 'Remember the three C's. Be a caring person, a compassionate person and remember that communication is vital to success in all things.'"
Among Dr. Raker's many accolades over the years are the AAEP Sage Kester Beyond the Call Award in 2010 and the AAEP Distinguished Educator Award in 2000.
Mentee Comments
"I appreciate and value the role that Dr. Raker played during my veterinary education both as a teacher of equine veterinary science as well as an example of professionalism worthy to be imitated. He personified the type of teacher and mentor that a broad cross section of students benefited from, regardless of whether or not equine medicine was their goal. His approachability and availability to any student that showed an interest in his attention, combined with his ability to transfer his enthusiasm for excellence to his students, makes him worthy of recognition as a true mentor."
—Jeffrey T. Berk, VMD, Equine Medical Associates, PSC, Lexington, Ky.
"Charlie Raker is the reason I migrated to equine medicine. My 'formative years' were spent working on a dairy farm from 1946 on until 1956. Bess and Nell (a couple of non-descript draft mares) were the only contact I had with horses until veterinary school. Charlie's knowledge, demeanor, ethics and personality were the traits I so admired and wanted to live up to."
—J. Clyde Johnson, VMD, Spofford, N.H.