Charles D. Vail, DVM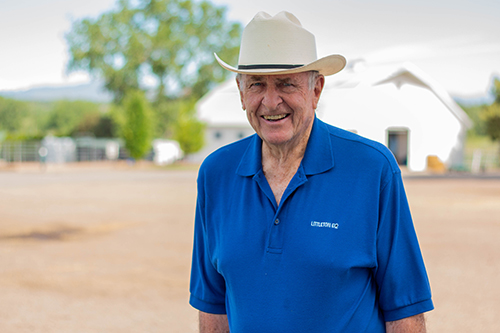 A mentor and leader throughout his six decades at Littleton Equine Medical Center, Dr. Charles "Charlie" Vail has long been an influential presence in the equine veterinary profession and industry, leaving his legacy and impact on all he encounters.
Born in Denver, Colorado, Dr. Vail graduated from Colorado A&M College in 1958 and from Colorado State University College of Veterinary Medicine in 1960. He went to work for Harry W. Johnson and G. Marvin Beeman at the Littleton Large Animal Clinic upon graduation. He's been prominent in the Thoroughbred and Quarter Horse racing industry since 1958, served as the track veterinarian for Centennial Racetrack from 1962-1963, and currently serves as a Colorado Racing Commissioner.
President of AAEP in 1985, Dr. Vail has had a career-long commitment to organized veterinary medicine and continuing education. He has been president of The Denver Area Veterinary Medical Society, The Colorado Veterinary Medical Association, The Western Veterinary Conference, Littleton Rotary, The Animal Assistance Foundation, The Rocky Mountain Stroke Association and The Colorado State University Alumni Association. Of all of these, his commitment to AAEP is the longest, strongest, and most steadfast.
A member of AAEP since 1960, Dr. Vail served on various boards, committees, and councils, including the executive board district 6, membership, hospital planning and standards, exhibits and various others. He was AAEP's representative to the US. Animal Health Association for 24 years. He authored AAEP's Second 25 Years history book (1980–2004) and was named AAEP's Distinguished Life Member in 2006.
When not immersed in the equine world, he spends time with his wife, Jeannie; son and daughter; and four grandchildren.
Mentee Comments
Hundreds of treasured colleagues have taught me the mechanics of being an equine veterinarian. I am in debt to all of them for teaching me essential clinical skills. But I am honoring Charlie on the "My Mentor" wall because he is the colleague who inspired me to serve beyond those daily calls, to stretch towards leadership, and to give back through research and education.
Charlie entered my life in the mid-1980s when he traveled east to give a seminar on equine practice management. While sharing a wealth of business knowledge, he challenged our group to rise above the constant pressure of daily patient care, focus on business sustainability, and ask hard questions about where the profession was heading. His attention was squarely on the seminar participants, probing deep to discover the challenges, concerns, and strengths of his audience, including me, his host. That initial conversation over 30 years ago sparked decades of "distance mentoring" throughout which Charlie has encouraged, challenged, and promoted me. During that time, he mined his broad networks, opened doors, and created opportunities for me to become a teacher, author, and active volunteer within AAEP. He checked in frequently, either to offer praise, or to give a gentle push. Expectations were high; when you have someone like Charlie to live up to, you have little choice but to rise to meet the occasion!
Charlie is a true Renaissance man who looks to literature, music, psychology, and history when interacting with colleagues, hospital staff and clients. His compassion for people and animals, combined with his thirst for knowledge and drive to share that knowledge have led him to assume many roles within our profession. Through his work as a founding partner of Littleton Equine, past president of both AAEP and the Western Veterinary Conference and positions within other arms of organized veterinary medicine, Charlie has always taken the "30,000-foot view," promoting individuals and resources that advance the welfare of the horse, further veterinary medicine, support the industry and maintain the reputation of veterinary medicine as one of the most trusted and ethical professions in the world. It is my hope that all of us lucky enough to be mentored by Charlie will continue to "pay it forward."
– Ann E. Dwyer, DVM, Genesee Valley Equine Clinic, Scottsville, NY.