Albert A. Gabel, DVM, MS, Dipl., ACVS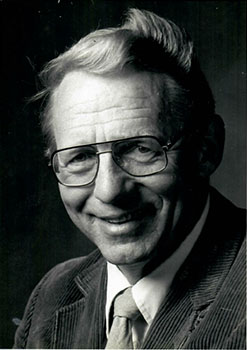 Albert A. Gabel, DVM, MS, Dipl., ACVS
After graduating from The Ohio State University College of Veterinary Medicine in 1954, Dr. Gabel served two years in the U.S. Air Force in Germany before returning to GabelOSU to earn a master's degree in veterinary anesthesia.
Dr. Gabel served on faculty at OSU's College of Veterinary Medicine for 33 years and served as head of the Clinical Equine Section from 1971 until he retired in 1989. He mentored 23 resident-graduate students, each of whom earned a master's degree.
During his career, Dr. Gabel authored or co-authored 100 peer-reviewed articles as well as several hundred articles that appeared in horsemen's journals. In 2000, Dr. Gabel and two others received the AAEP Distinguished Educator Award.
Dr. Gabel trained and drove Standardbred race horses for 11 years, earning recognition as U.S. Amateur Driver of the Year in 1995. He was elected president of the Ohio Standardbred Owners and Breeders Association in 1992 and initiated its merger with the Ohio Harness Horsemen's Association.
Dr. Gabel and his wife of 65 years, Lucy, have lived on six acres in Dublin, Ohio, since 1965, where they raised seven children.
Mentee Comments
Dr. Al Gabel is well known by his students for his unique and amusing communication style. Who can forget his loudly stating "Make It Bleed" when you were hesitating on that initial incision? Those with an interest in horses experienced his strong passion for helping horses and his compassion and respect for their owners. He taught being a horseman first, then each case was centered around a careful diagnosis and a treatment plan that was best for the horse and the owner. Dr. Gabel was exacting and demanding, but not for himself; it was for the horse. His students were exposed to not only the medical and surgical aspects of practice, but the horsemanship and industry requirements that were valuable to an equine practitioner. Many of Dr. Gabel's mentees are good practitioners and proud to share what he taught them. -John S. Mitchell, DVM, Waynesville, NC
Growing up on a general livestock farm, I knew I was going to be a food animal veterinarian at 10-years-old. However, things changed when our area changed from general livestock to crop farming. I wanted to be outside and be a large animal veterinarian. I went to Scioto Downs Race Track one Saturday night with my dad and that next Monday morning I sat down in Dr. Gabel's office. I told him I want to be a Standardbred racetrack vet. He asked had I ever jogged one? When I said no, he said I have a jog cart built for two, I train at Delaware County Fair, come up Saturday and learn how to jog a racehorse. The next thing I was padlocking his racehorse at The Meadows. I met an OTS alum-—my fraternity brother Dr. Larry Smith, a former student of Dr Gabel's who worked at The Meadows and Pompano Park. He became my mentor. So, Dr. Gabel got me launched. I am so grateful. Every day of my career was like a hobby!
-James A. Ford, DVM, St. Augustine, FL