A. Martin "Marty" Simensen, DVM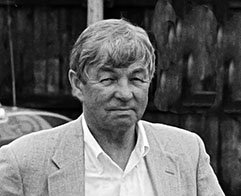 A 1956 graduate of Cornell University School of Veterinary Medicine, Dr. A. Martin "Marty" Simensen practiced in Massachusetts and New Hampshire until his passing insimensen 1995. Dr. Simensen served as the U.S. Equestrian Team (USET) Veterinarian for over 22 years and was beloved for his commitment to his equine patients and their owners. Dr. Simensen's work touched the lives of countless equestrians, veterinarians, and horses; and he was renowned for his dedication and support of the equine athlete. In addition to being an innovator in equine practice, Dr. Simensen was known for his generosity of expertise and friendship and was always willing to give his time to those who asked for it.
Beyond the competition ovals, fields, and racetracks, Dr. Simensen was a founding member of the American Horse Council and an early member of the American Association of Equine Practitioners (AAEP), which he joined in 1958. He served on the AAEP Racing Committee from 1978-1987, AAEP Trail & Events Committee from 1977-1985, AAEP Horse Show Committee from 1984-1992, and as the AAEP liaison to the American Horse Shows Association (now USEF) in the early 1990s.
Dr. Simensen mentored many young veterinarians nationally and internationally, to whom he instilled the value of hard work, professionalism, and compassion to all living creatures—humans and animals alike. He inspired his equine practitioner colleagues to learn and excel with passion and optimism.
Mentee Comments:
Dr. Simensen was a role model from the moment I met him as a groom at the 1982 World Championships in Luhmuhlen, Germany where he was the US team veterinarian. He was a remarkable diagnostician but also had mastered the "art" of veterinary medicine from the horses to the people in his care. His indomitable "love of the game" was truly motivating—he got up every morning looking to the challenges of the day. His organizational skills and work ethic facilitated the depth of his commitment to all; he crossed all socioeconomic boundaries and was at home with racetrack grooms as he was with Eventing royalty, treating all with respect and compassion.
Dr. Simensen recognized greatness in horses early in their careers and stood solidly behind those individuals; but he was also a caring steward for all living creatures. As a new graduate, he showed me the way to enjoy every day in practice, to see humor and to learn from my mistakes, to trust my instincts, to believe in myself and to be an early adopter of emerging equine practice opportunities. Most importantly, he taught me the importance of giving others a hand either as a mentor or as an AAEP volunteer. I was truly blessed to have known Dr. "Marty" Simensen as a student and as a colleague for he provided the compass to life's journey.
—Kathleen Anderson, DVM, Equine Veterinary Care PC, Elkton, MD
My earliest memories of Dr. Simensen are of his inclusive attitude towards all people and horses. I was a teenager with a pony club horse – but he gave as much time and energy to us as he did a top Racing TB or Olympic Eventer.
Marty was a kind, smart, encouraging human being. He thrived on, used and shared growth and advances in veterinary medicine. He was a horseman who was capable and involved in many sport horse disciplines because of that background. He was enthusiastic about his profession and the world he lived in. He encouraged others to be the same.
Dr. Simensen mentored me to find some sort of balance between horsemanship and veterinary medicine – reminding me as a veterinary student and young veterinarian that clients and horses were not only aware and watching your veterinary skills but also your approach with horses and your communication skills.
Many of us who are equine veterinarians, or otherwise involved in the horse industry, are forever grateful to Marty for all of his efforts towards the profession, the horse, education and benevolence.
Fifty years after meeting Dr. Simensen my thought process still includes "what would Marty do?" – a tribute to an influential and special man.
—Carolyn M. Weinberg, DVM, Spruce Hill Equine, Bridgewater, CT