Kathleen M. Anderson, DVM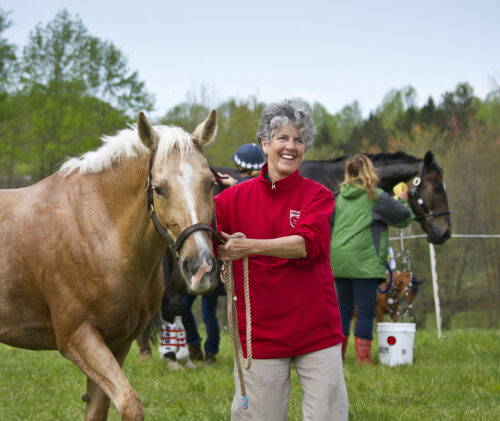 Kathleen M. Anderson, DVM
A native of British Columbia, Dr. Anderson grew up actively involved with horses as an eventing competitor, international competition groom, barn manager and racetrack exercise rider prior to obtaining her DVM from the Western College of Veterinary Medicine (University of Saskatchewan) in 1986.
Following graduation, she entered private practice in South Hamilton, Mass., under United States Equestrian Team veterinarian Dr. A. Martin Simensen. For the past 25 years, she has provided ambulatory and outpatient services as a founding partner and co-owner of Equine Veterinary Care, a racing and performance practice located at the Fair Hill Training Center (FHTC) in Maryland.
Her passion is lameness diagnostics and therapeutics in the Thoroughbred racehorse, from yearlings through second career off-the-track Thoroughbreds.
Dr. Anderson is a former board member and past president of the American Association of Equine Practitioners. Her extensive AAEP service includes terms as vice chair of the Racing Committee; chair of the Nominating Committee and Welfare & Public Policy Advisory Council; and member of numerous other councils and committees, including Member Engagement, Ethics & Professional Conduct, and Foundation Advisory among others. She has volunteered as an AAEP On Call spokesperson for Thoroughbred racing telecasts since 1997.
In addition, Dr. Anderson has served as a member of the Grayson-Jockey Club Research Foundation's Research Advisory Committee and has presented at the AAEP Annual Convention on issues of practice management and care of race and performance horses.
Dr. Anderson has been a board member for the FHTC since 1995 and is a co-chair and trustee for the Thoroughbred Education and Research Foundation. She continues to volunteer in other industry positions as she strives to contribute to the future of Thoroughbred racing to support the health and welfare of the many horses that inspire her to provide excellence in equine veterinary care!
When not immersed with horses and veterinary work, she likes to ride, travel, and live vicariously through her two adult children, John and Quinn.
Mentee Comments
When I moved to the North Shore of Massachusetts in the late 1980s, I needed to establish a relationship with a large animal veterinary practice to care for my horses. I was referred to Dr. A. Martin Simensen's practice, and shortly thereafter met the young vet from Canada who worked with him. She had groomed and competed at the highest levels in eventing prior to becoming a veterinarian and knew much more about the sport than I ever would. We hit it off, she and I.
From her first visit, her clinical skills impressed me. There was a no-nonsense briskness in her demeanor, but the horses were clearly comfortable with her. She was concise in her descriptions of whatever needed to be done or when making suggestions for future consideration, yet always welcomed my questions and was happy to discuss concerns if I had any. The horses came first, but she also respected me as a client. Over the years we have developed a deep friendship and, despite her relocation, she has continued to mentor me not just as to my horsemanship, but as to managing a personal life while developing a professional career.
When I visit her at Fair Hill Training Center, a wonderful facility that she helped develop, I have the pleasure of watching her interact with trainers, owners, staff, and horses at the top of the game. She knows everyone's name and greets them kindly. She follows the progress of her clients and their charges. I have seen the sheer joy she takes from watching a good horse excel and her sorrow when euthanasia is the only humane solution. It has never been "just a job" for her.
In addition, she has maintained a full family life, raising two children while being a consummate businesswoman. Despite some difficult times, the loss of her clinic to fire recently being one, she has faced every challenge head on while attending to those around her and all the details that she seemingly coordinates effortlessly.
I have observed her modeling these traits to many others, including vet students, friends, and visiting professionals. She has never refused to open her door or her practice to someone who wants to learn and has undertaken responsibilities on the national level because she believes that is a way to reach more potential learners.
Yes, she is a mentor. Of veterinarians, horse owners, trainers, clients, and friends.
– Anne Hezzey, Ipswich, MA
I first worked with Dr. Anderson when I began an externship with Dr. A. Martin Simensen, in Hamilton Mass., in 1988. This was a vibrant and exciting practice including within its clientele the national headquarters of eventing, a racetrack, numerous horses engaged in the highest levels of their various equine sports as well as beloved pleasure horses. From the outset, Kathy took on the role of being my mentor. She not only was a wonderful teacher and role model, but she also possessed the attributes of a true mentor by recognizing my own strengths and encouraging me to act on them. At the same time, she would assess my weaknesses and find opportunities for me to work on them.
Her primary focus was always the equine, but along with that, she modeled client interaction, sound business practices and the navigation of a being a woman in the profession. Professionally and clinically, she challenged me to be effective, curious, efficient, and creative when needed. Thirty-two years later, in my own private practice, I often think "What would Kathy do?" I believe that is the best reason why Dr. Kathleen Anderson should be recognized here.
– Mary Kahan DVM, Eliot, ME
Growing up, I would never have described my mother as a mentor. It wasn't a word she used to describe herself. Mentorship sounded like a part-time gig—certainly not an apt description of the way she involved herself in the lives of those young veterinarians and vet students who seemed to show up on our doorstep whenever the season changed. Some came from Chile or Costa Rica, some from her native British Columbia, some from places my younger self didn't find quite so exciting. Sometimes they stayed for a week or two. Sometimes they stayed so long I assumed their presence was permanent and they seemed less like aspiring students than older siblings to me. A few of them still feel that way.
Regardless of the duration of their stay, my mother took the same tack: Bring them into her world with open arms and share every detail she could with them. It was an endless stream of anecdotes, explanations, and small details to keep an eye out for, philosophical lessons about decency and respect, and an underlying assurance that those students, in their own time, would figure it out for themselves. I know this because I was (unwillingly) privy to all the same lessons—how to suture a wound or treat a colic, the best way to broach a tough conversation with a client, and the importance of being good to people. Looking back, it felt as though my mother, having found her passion and her place, wanted nothing less than to share that passion. She wanted to show those coming into her profession how they could find their own place not just in equine medicine, but in the world. It wasn't just a role to her. It was one of the perks of the job.
I suspect if you asked her, you'd find that it wasn't always so effortless to find a place for all this mentorship amidst running a successful practice and raising two argumentative children. But regardless of the challenge, I think she'd agree that to her, being a mentor isn't an option or a duty so much as who she is at her core.
– John Lavanga, Louisville, KY
Kathy came into my life as a client many years ago, and from the moment we met, I knew we'd be fast friends. I appreciate her in many ways. Mostly as a truth teller whose authenticity inspires me!
– Debra Butler, Avondale, PA
Dr. Anderson has been a great colleague over the years and an important bridge between owners/trainers and veterinarians. I am happy to see her hard work and dedication be rewarded with this honor.
– David G. Levine, DVM, DACVS, DACSMR, New Bolton Center, University of Pennsylvania, Kennett Square, PA
A friend for life!
– Wendy Moon, Chesapeake City, MD
Dr. Anderson and I initially met through various volunteer and leadership positions in the AAEP. As you can read from the comments of others, especially in her nomination packet, striving for excellence in all facets of practice (care of horses, trainers, clients, students, specialist veterinarians to whom she would refer) Kathy has excelled in each area. She consistently treats each one-on-one interaction with the players in each area with the utmost attention and respect. Perhaps her most important contribution is serving as a role model for aspiring veterinarians, students, and new graduates. She has established and run a very successful practice, she has done so while raising two accomplished children, and she is an articulate spokesperson for the horse. Despite the overwhelming task of doing all this concurrently, she has maintained a good "life balance" that allows her to be present for each and every encounter in a positive and encouraging way.
– Suzi White DVM, MS, DACVIM, University of Georgia, Athens, GA
Dr. Anderson has been an outstanding veterinarian and friend for many years. Her insight, intelligence and kindness has been a gift to us all. We are so appreciative of her.
– Two Sisters' Farm Inc., Coatesville, PA
Thank you, Kathy, from all the two and four legged friends that have been blessed to have you in their lives.
– Josselyn Shaughnessy, North Andover, MA
Dr. Anderson is a rare individual that has the ability to fully concentrate in the veterinary moment but also can direct her thoughts in quiet times to the topics we all are struggling to understand.
As a veterinarian, Dr. Anderson forges strong relationships with her friends, other veterinarians, horse owners and always has the welfare of the horse in mind.
– Karen Nyrop, DVM, MS, Didsbury, Alberta, Canada
I have so many memories of working with Dr. Kathy Anderson, as my employment began in 1993. Her son was a toddler and her veterinary practice in infancy. She proved to me if you really want something, it can be done; just be willing to put forth the effort.
Kathy is an extraordinarily strong-willed, smart, independent woman with so much knowledge to share. She has always led by example, teaching me so much over the years. Keeping pace with her energy in the field has always been a challenge. Sometimes the hardest working individuals have a tough time keeping up! Once after a highly productive day, we continued to Timonium Sale in the rain to do more radiographs. Wet and exhausted, driving home that night, the visiting vet told me that he was thinking he may want to change his career path and he "wanted to be a dancer" as it was such a tough day! Of course, Kathy was still at the sale grounds wrapping up the discussion with the agent. Like the Energizer Bunny… she keeps on going.
Kathy cares for the horses' well-being over all else, which is why many injured horses over the years have found solace at her farm until they are ready to move on to their forever homes. I admire the compassion and dedication she has for equines. I also respect the support she provides for local businesses. She has always sponsored local food services, printing companies and vehicle repair stations whenever possible.
Not only is she devoted to her practice, she is also a devoted friend. Years ago, my husband experienced a medical emergency. She was there when I got the call and quickly jumped into action, loading my belongings into the vehicle for a quick exit to the emergency room. I was out of the office for several weeks with no questions asked. She has always supported me in whatever situation and for that I am forever grateful.
Being a friend and confidant, Kathy has become a mentor to a great deal of people over the years. She has given the horse industry so much time, energy, and care. Kathy, we applaud you for your many years of service!
— Tammy Burlin, Port Deposit, MD