Terry L. Blanchard, DVM, MS, DACT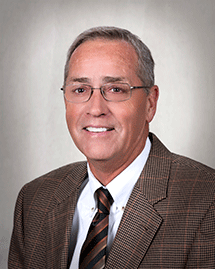 Terry L. Blanchard, DVM, MS, DACT
Dr. Terry L. Blanchard served as a guiding light and steadfast mentor to many for decades, in the field, in the office, in the lecture room, on the clinic floor, in the research laboratory, and at various Theriogenology, AAEP and other gatherings.
Dr. Terry Blanchard studied at Kansas State University and received his Doctorate in Veterinary Medicine in 1976. He was in a mixed animal practice at Smith Animal Clinic, Inc., Crown, Point, Ind., for a year after graduation. Dr. Blanchard joined the U.S. Peace Corps in the Philippines where he taught pre-veterinary students and performed research on reproduction in water buffaloes from 1977-1979. Dr. Blanchard wrote a thesis on the effects of anabolic steroids on stallion testicular function while working on his master's degree. He received his master's degree from the University of Missouri in 1983. Dr. Blanchard completed his residency on large animal reproduction at the University of Pennsylvania, New Bolton Center. He completed his residency in large animal reproduction at the University of Pennsylvania, New Bolton Center in 1981, and then joined the faculty at the University of Missouri-Columbia. He became certified as a Diplomate in the American College of Theriogenologists in 1982. He rejoined the faculty at the University of Pennsylvania from 1984-1986. Dr. Blanchard then joined the faculty at Texas A&M University from 1986-2005. He moved to Lexington, Ky., as a resident veterinarian at Hill 'n' Dale Farm from 2005-2007 and rejoined the faculty at Texas A&M University in 2008. Dr. Blanchard is the co-author and editor of two textbooks on stallion reproduction and one textbook on equine reproduction.
His impact in the research arena has been extremely enriching to practicing veterinarians and those in the horse industry alike—with research studies directed at both stallions and mares. A few examples include investigations of testicular function and degeneration, internal genital infections, genetic causes of subfertility, and insemination strategies in stallions, and ovulation-inducing agents, foal-heat breeding strategies, diagnosis and treatment of endometritis, and mare reproductive loss syndrome (MRLS)-related fetal losses in mares.
Another measure of Dr. Blanchard's commitment to the dissemination of information to students, horse owners, farm managers, and practitioners is the authorship of three textbooks on equine reproduction. These textbooks have received acclaim from their readership.
Among his honors and awards are the 1998 Distinguished Teaching Award and 2001 Distinguished Achievement Award in Teaching, both from the Texas A&M University Association of Former Students; the 2000 Faculty Achievement Award for Outstanding Accomplishment in Research from the Texas Veterinary Medical Association; 2006 Theriogenologist of the Year from the American College of Theriogenologists; 2010 Alumni Recognition Award at AAEP Convention from the Kansas State University Veterinary Medical Alumni Association; and 2014 AAEP Distinguished Educator – Academic Award.
Mentee Comments
Dr. Blanchard challenged those around him to be better. He was one of my best teachers both while I was in vet school and for my 37 years in practice since. On sabbatical from A&M in Lexington, Ky he developed into a pretty good general practitioner. Our roles reversed during that period. I wished I could have taught him as much as he taught me in as respectful of a way as he had done for me. Terry is a wonderful person. If you can retire and that's the worst anyone can say, then you have succeeded.
– Jim Morehead, DVM, Equine Medical Associates, PSC, Lexington, KY
Terry Blanchard! I knew of so few who was and is more responsible and clearly expert in teaching/mentoring, caring for students, interns/ residents, and those of us in academia and private practice. He, for me, joins Drs Vaughan, Raker, and Kenney as the most caring mentors.
I met Terry in the early '90's at New Bolton Center. We interacted as Terry had an appreciation and expertise beyond his passion, reproduction. I arrived at Texas A&M in '93 knowing Terry was there. His impact there was remarkable. Expert, kind, and "direct." He is a most deserving mentor!
– William A. Moyer, DVM, Billings, MT
Dr. Terry Blanchard is one of the smartest and most generous people that I know. Over years of working together, I have called Dr. Blanchard a mentor, a teacher, a colleague, a friend, and a family member. I cherish each role that Dr. Blanchard has played in my life. His style is understated and self-deprecating, yet one only has to review his extensive list of publications to see the impact that work from the shared laboratory of Blanchard and Varner has had on the field of equine reproduction. In perusing the publications, it is notable that many of the first authors listed are those of residents, graduate students, and fellow faculty members. When asked why he frequently put others in front of himself, Dr. Blanchard replied, "Seeing those that I work with succeed is like watching your children succeed; it is one of the most satisfying things that I do." Dr. Blanchard's generous, selfless nature defines the man that he is, which make his accomplishments that much greater. Working with, and knowing, Dr. Terry Blanchard is one of the best things that has ever happened to me.
– Margo L Macpherson, DVM, MS, DACT, University of Florida, Gainesville, FL.
Dr. Terry Blanchard was an outstanding veterinarian, mentor, and colleague. Throughout my residency/graduate training program, and later as a co-faculty member at Texas A&M University, Dr. Blanchard was an inspiration and role model. Terry is a walking encyclopedia of equine reproduction literature. I was very fortunate to be able to participate with him on numerous research projects, where his practical approach to addressing common reproductive problems has made significant contributions to the equine breeding industry. Dr. Blanchard is one of the most forthright and giving individuals I have ever met, and for over 30 years, he has remained one of my dearest friends.
– Steven P. Brinsko, DVM, MS, PhD, DACT, CVA, Texas A&M University, College Station, TX